Experience the 2024
Total Solar Eclipse
in Morgan County, Indiana
The next total solar eclipse visible in North American will take place on Monday, April 8, 2024. The path of this solar eclipse will travel across the United States, from Texas to Maine. All of Morgan County lies within the path of totality for this rare astronomical event, with the City of Martinsville and the Town of Morgantown being closest to the path's centerline. Martinsville should see 4 minutes, 6 seconds of totality and Morgantown will see 4 minutes, 3 seconds of totality! This is very close to the longest period of totality throughout the state. Other communities in Morgan County will see 3 minutes, 50 seconds or more of totality.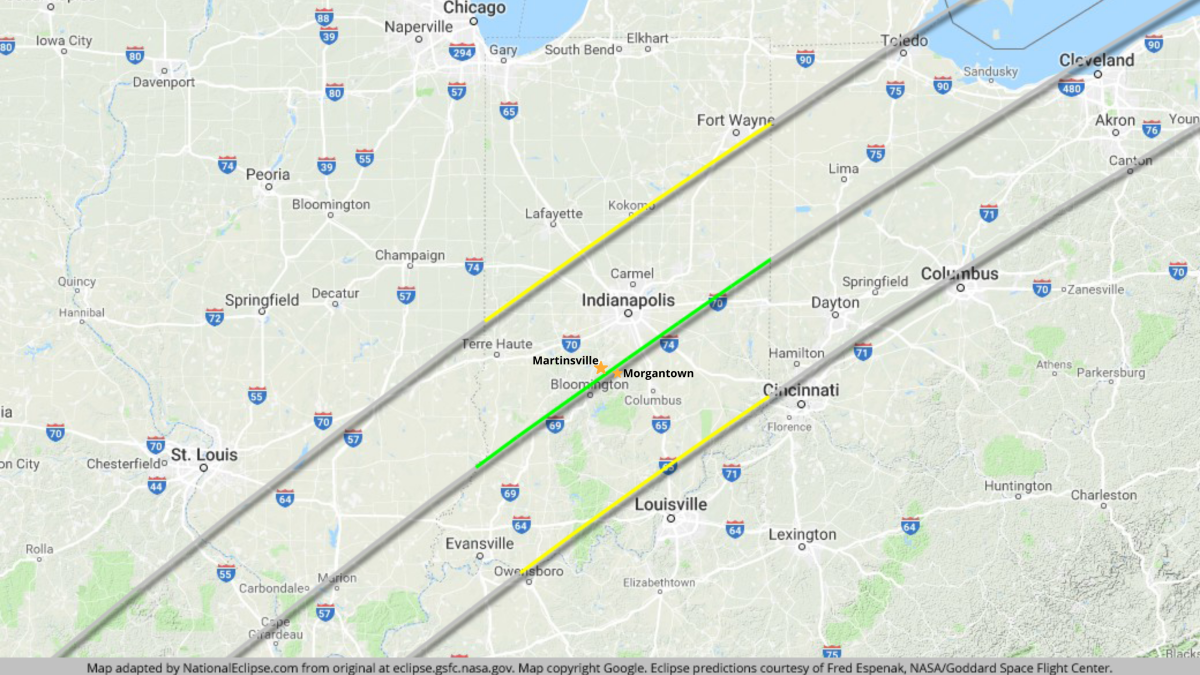 A telescope will not be needed to view this event, though you will need proper safety eyewear to look at the sun before and after totality. Morgan County will be in totality beginning shortly after 3 pm EDT. It is safe to remove your eyewear during totality. 
To see exactly where the sun will be in the sky on the date of the 2024 eclipse, go outside on the first Monday in September, 2023 and look to the southwest. The sun should be about 45 degrees above the horizon. That's almost exactly where it will be on the date of the solar eclipse, making Labor Day weekend the perfect time to plan a scouting trip to Morgan County to choose your perfect viewing location!   
Designated Viewing Areas:
The Morgan County Fairgrounds will be a designated viewing area for the 2024 solar eclipse. They have a very limited number of campsites available to be rented for the event for those who would like to stay the weekend in an RV, as well as some space for non-electric tent camping on the grounds. Those driving in for the day are welcome to view the event at the Fairgrounds as well. Watch for more details about watching the eclipse at the Fairgrounds. 
Additional information and more designated viewing areas in Morgan County will be announced soon.
Special Events:
Mooresville will host a four-day event in conjunction with their community Bicentennial Celebration. Watch for more details on the event, which will include a four-day downtown street fair, visits to Link Observatory, presentations, camping opportunities and more. 
Cedar Creek Winery, Brewery & Distillery will host a special solar eclipse viewing event on April 8, beginning at 11 am. This locally-owned family of businesses will be very close to the longest possible period of totality. Cedar Creek will provide viewing glasses for event attendees. Bring your own chairs and blankets for seating to enjoy a day at The Creek as you experience this one in a lifetime phenomenon! Please contact them as early as possible if you will be bringing a large group.  
Watch our calendar for area events and specials for eclipse visitors as the date gets closer and more plans are finalized. 
Statewide Information:
Visit Indiana has a page dedicated to the 2024 Eclipse featuring information on viewing events throughout the state: Visit Indiana Eclipse Information
The Indiana Department of Natural Resources also has information about state recreational properties that are in the path of totality: IDNR Eclipse Informatio
Learn more about the complete path of the 2024 Total Solar Eclipse at nationaleclipse.com or eclipse2024.org. 
PLAN YOUR VISIT:
Eclipse FAQs
Q. What is a total solar eclipse?

A. When a total solar eclipse occurs, the sun, moon and Earth must be in a direct line. A total solar eclipse is only visible from a small area on earth.

The moon covers up the sun, causing the sky to become very dark, as if it were night. It produces a 360--degree sunset, making it dark enough to see planets, bright stars and the sun's corona. Insects and animals will act as if it is nighttime, so you may even see fireflies during a total eclipse!

In order to see the full effects, you must be in the Path of Totality of an eclipse. If you are inside the Path of Totality, you may look up at the eclipse safely without special glasses or viewers only during the time of totality. Before and after totality, you must wear safety glasses or look through a safe eclipse viewer. This also applies if you are in an area just outside of the Path of Totality where only a partial eclipse is viewable.
Q. When is the next Total Solar Eclipse?

A. The next Total Solar Eclipse over North America will take place on the afternoon of April 8, 2024.

The last time a total solar eclipse passed over Central Indiana was more than 800 years ago in 1205 when Genghis Khan was consolidating his power in China. If you miss this one, the next Total Solar Eclipse visible from the contiguous United States will not take place until 2044. The next one visible from any part of Indiana won't be until 2099!
Q. Where can I see the Total Solar Eclipse in April, 2024?

A. The April 8, 2024 Total Solar Eclipse will have a Path of Totality that crosses North American from southwest to northeast, beginning in Mexico and ending in Canada! Morgan County, Indiana is a prime location for viewing the 2024 Total Solar Eclipse, with the Center Line of the Path of Totality passing just outside of Martinsville. This area will enjoy 4+ minutes of totality on the afternoon of April 8.  

For more information about visiting Morgan County for the eclipse (or any time), check out the following links. 
Where to Stay  |  Restaurants  |  Things to Do  |  Event Calendar |  Blog Posts
Q. What exactly will I see during the Total Solar Eclipse?

A. If you are in the path of totality, you will see the full effect of the solar eclipse - a 360-degree sunset effect that will seem just like nighttime. During totality, it will be dark enough to see planets and bright stars in the sky, and you will see the sun's corona as well. Depending on where you are, you may also see night birds or insects as well - the darkness will be such that animals and insects will believe it's night and will begin to act accordingly. Keep an eye out for Indiana's state insect - the firefly!
Q. How long will the Total Solar Eclipse last?

A. The length of the Total Solar Eclipse will depend on where you are viewing it from. The entirety of Morgan County, Indiana lies in the Path of Totality. Morgan County will see between three and a half to slightly over four minutes of totality. The Greater Martinsville area will see just over four minutes of totality, while Mooresville will see approximately 3 minutes, 50 seconds of totality. The Path of Totality will stretch all the way across the state of Indiana from east to west, and will include locations as far south as Evansville and as far north as Bluffton.
Q. How do I see the full effect of the Total Solar Eclipse safely?

A. To see the full effects of the eclipse, you must be in the Path of Totality. The entirety of Morgan County, Indiana will be in the Path of Totality and will see more than 3 minutes of totality. The only safe way of looking directly at the sun (whether during an eclipse or otherwise) is to use a certified solar filter. These filters are available in special eclipse glasses or rectangular eclipse viewers. This does NOT include sunglasses - for safe viewing. You will want to have NASA-approved CE and ISO Certified viewers to view the eclipse.

During the totality phase of the total solar eclipse, you can safely take your classes off and look directly at the sun during the short time when the moon completely obscures the sun - this is known as the Path of Totality. This is only safe to do within the Path of Totality and is not safe while viewing a partial eclipse or during the time before and after full totality. Wait until you are sure you are within totality before removing your glasses and be sure to put them back on to protect your eyes just before the period of totality ends and transitions back to the partial eclipse phase of the event.
Q. Can I see the solar eclipse without special glasses?

A. There are ways to view the total solar eclipse if you do not have access to NASA certified glasses or viewers. You can project the eclipse onto cardboard or another solid surface to view it indirectly. A sun safe projector can be made utilizing binoculars or a telescope, a tripod, duct tape, a sheet of white paper and cardboard. You can also use pinhole projection, where you use a material such as paper, with a small hole and watch beneath it to view the progression of the eclipse.

If you are in the path of totality, it is safe to look up without glasses during totality. You will want to be extra sure that you are within the window of totality to avoid risking damage to your vision. Be sure to look away before the end of totality.
Q. What happens after the Solar Eclipse is over?

A. After the period of totality, this area will be in a period of partial eclipse, similar to that leading up to totality. Though people will arrive for the Solar Eclipse over the course of the weekend before, it is expected that most visitors will want to head home immediately after the event is over on Monday afternoon. Based on past solar eclipse events, you can expect snarled traffic immediately after the eclipse is over as tens of thousands of spectators all attempt to leave central and southern Indiana at the same time. We highly recommend staying an extra night, if you can, or at least delaying your departure from the area to allow for some of the traffic to dissipate. Make a plan to enjoy dinner at a local eatery before heading home, or visit an area park or attraction before hitting the road.
Q: How do I stay informed about the 2024 Total Solar Eclipse?

A. Check back here frequently, as we'll be updating information about area events, designated viewing locations and more just as we get it. In addition, whether you're a local resident, live in the surrounding area or know you'll be visiting or passing through on the day of the eclipse, we recommend you sign up for the 2024 Solar Eclipse Group through the Morgan County EMA's Wireless Emergency Notification System. The group will be active from now until after the eclipse on April 8, 2024 and will be used for eclipse related information and updates, including major traffic updates immediately following the eclipse. To sign up, simply text "morgancoineclipse2024" to the number 69310 on your mobile phone or sign up online.