If you didn't already know, Indiana actually has five season - Spring, Summer, Fall, Winter, and MUD! It seems like there's always a period of time each year sometime between the holidays and summer where the ground is saturated and the temperatures is warming, creating a situation that's not always good for hikers, or the trails. If you want to get outdoors, but don't want to deal with muddy trails, here's your fix - hit the area's paved trails to stay (relatively) clean as you enjoy nature! We've compiled a list of our favorite paved trails in Morgan County to help you avoid the mud, and help protect our natural surface trails from additional erosion caused by users when the ground is oversaturated.
While particularly useful in early spring (a.k.a "mud season"), this list can also be used any time heavy rains create lots of mud and muck to threaten your outdoor fun, or anytime you need a trail option that's stroller or wheelchair friendly.
Another great way to avoid the worst of the mud? Hit a trail on horseback at Grandpa Jeff's Trail Rides near Morgantown.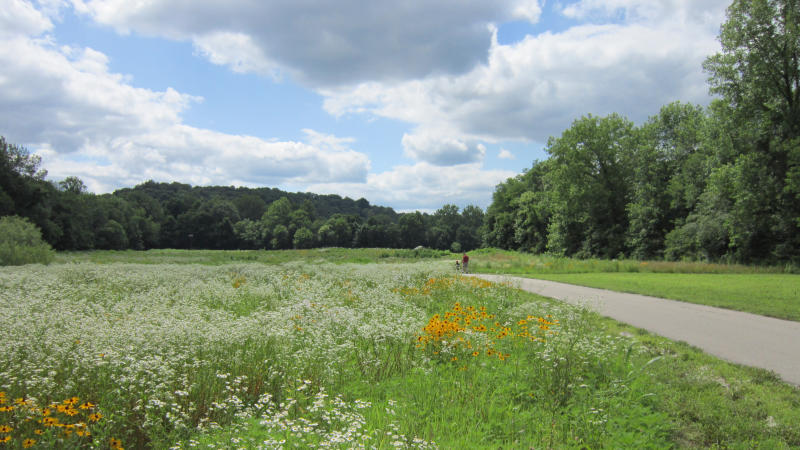 Burkhart Creek Park
N. Duckworth Road, Paragon
One of our favorite Morgan County trail destinations, Burkhart Creek Park has a paved loop trail at the northern end of the park. The paved loop trail is located off the parking area on Warthen Road. It encircles a large swath of prairie grasses and wildflowers. There's a shelter house with play area adjacent to the paved trail, and an area with creek access as well. There's also a paved spur that connects to the Duckworth Road parking area. Though the rest of the park's trails are not paved, they area gravel surface rather than natural surface trails, which can also be a good option for minimizing mud damage - to both the trails and your shoes! Paved Trail: 0.7 mi. Total Trails: 2.8 mi.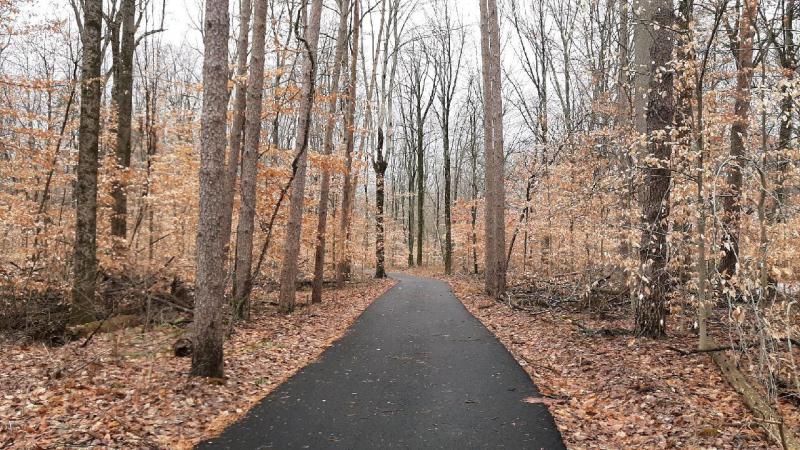 Morgan-Monroe State Forest
6220 Forest Road, Martinsville
Well known across the state (and beyond) for great trail experiences, Morgan-Monroe State Forest now has a paved trail option! A fairly recent addition to the property, the paved trail roughly parallels the main forest road all the way to the camping area. A hilly, curving path that follows the contours of the land, the paved trail connects picnic areas, playgrounds and more, ending at the forest headquarters building and historic fire tower. Natural Trails are extensive in Morgan-Monroe and are part of longer trail systems such as the Tecumseh Trail and the Knobstone Trail. Paved Trail: 5 mi. Total Trails: 28 mi.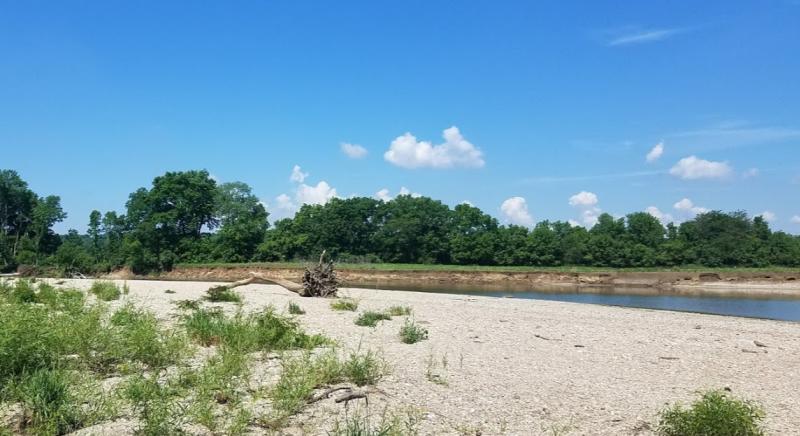 Old Town Waverly Park
8401-8525 Main St, Martinsville
Quickly becoming a favorite in the area is the relatively new White River Greenway Trail at Old Town Waverly Park. This two-mile paved trail offers stunning river views, wildlife viewing opportunities, and even picnic spots along the way. (Keep an eye out - we hear there are eagles nesting directly across the river from the trail!) The paved trail is stroller and bicycle friendly and roughly parallels the White River, peeking in and out of the trees along the way. If you're avoiding the mud after heavy rains, please be aware that this trail is very close to the river in places and does occasionally flood. If water is up on the trail surface, please do not continue. There's also a rocky 'sandbar' area you can easily access from the trail for rock skipping, picnics and other fun diversions. While you're at the park, be sure to checkout the historic bank building, blacksmith forge and other traditional arts area. Demonstrations are held on the second Saturday of each month during Living History Days. Paved Trail: 2 mi. Total Trails: 2 mi.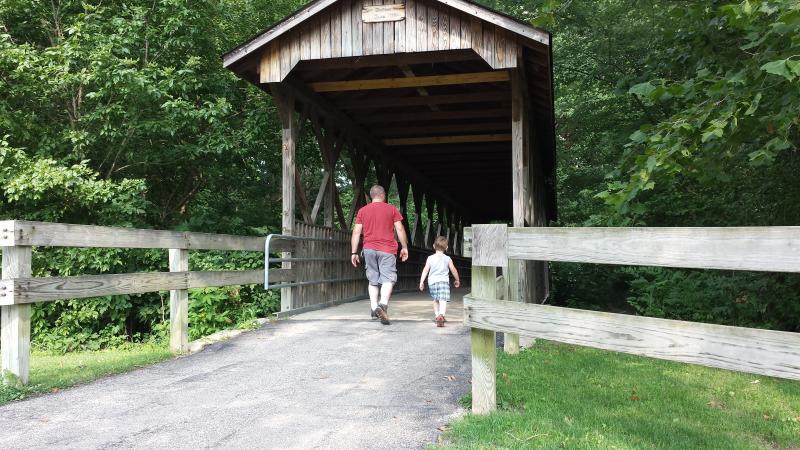 Pioneer Park
1101 Indianapolis Road, Mooresville
Mooresville's largest park property, Pioneer Park is located on Indianapolis Road. Their three mile paved trail system is a great option if you're looking to enjoy the outdoors without being far from 'civilization.' Paved trails encircle the park's many amenities. A pedestrian covered bridge crosses the East Fork of White Lick Creek leading to trails that encircle the park's soccer fields and also explore along the forested creek banks, with another, smaller covered bridge in that area. There is creek access near the bridge, which is a welcome diversion in the heat of summer, but does require caution after heavy rains. This park is also home to multiple play areas, shelters, sports fields, an aquatic center and more! Paved Trail: 3 mi. Total Trails: 3 mi.
If You Go...
Be sure to plan for refueling after your outdoor adventure! We highly recommend exploring independent, locally-owned dining options while you're in the area. Here's our handy list of local favorites to use for reference. You might also need to stop off for dessert, in the form of ice cream, of course. After all... whether on pavement or natural surfaces, hiking takes a lot of energy!  Watch our calendar of events for lots of fun upcoming events at area parks and beyond. Also check out our full list of area parks and trails for future adventures, you know... for when mud season is over.