The holiday season has officially begun, and there's absolutely nothing quite like a small town Christmas. If you didn't already know, Morgan County is home to some fantastic small town holiday events that you'll want to get on your family's holiday calendar ASAP! Below, you'll find our list of more than a dozen of the very best small town Christmas experiences this area has to offer. Oh, and don't forget to get the low-down on holiday shopping open houses, craft and vendor shows and other upcoming events on our blog or event calendar.
Be sure to get these fun, small-town holiday traditions on your family's seasonal calendar and get started creating those new holiday memories! 
Every Saturday
Martinsville Candy Kitchen, Downtown Martinsville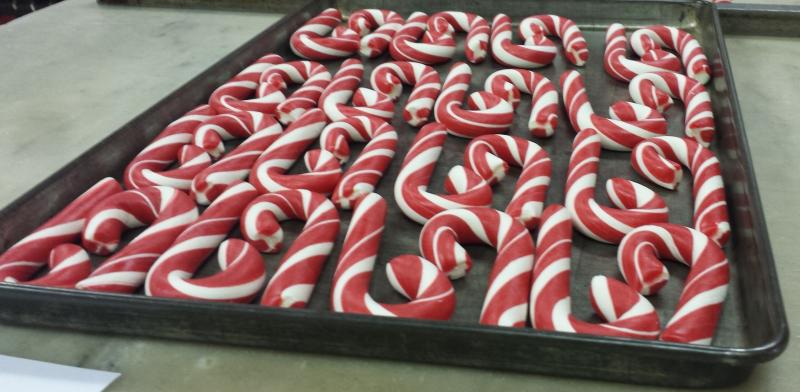 First off, it's simply not the holiday season until you've seen them make candy canes by hand at the Martinsville Candy Kitchen! Luckily, you've got plenty of chances for this iconic Martinsville experience. The 100+ year old, family-owned and operated candy shop will be making candy canes, on every Saturday in November and December, until Christmas. Approximate Saturday pour times are around 10 am, Noon and 3 pm, but times are subject to change so call or check their Facebook page for specifics if you have limited time. Keep an eye out for additional pour times as well, sometimes you can catch a mid-week or Friday evening pour time! It's fun to watch, but the smells are what really turn the experience into an unforgettable family memory. We guarantee, your kids will be reminded of this experience every time they smell peppermint, probably for the rest of their lives.  
(Santa & Mrs. Claus will visit the Candy Kitchen on Nov. 25 and Dec. 23 this year.)
 
November 25 (Lights stay on until New Year's Day)
Jimmy Nash City Park, Martinsville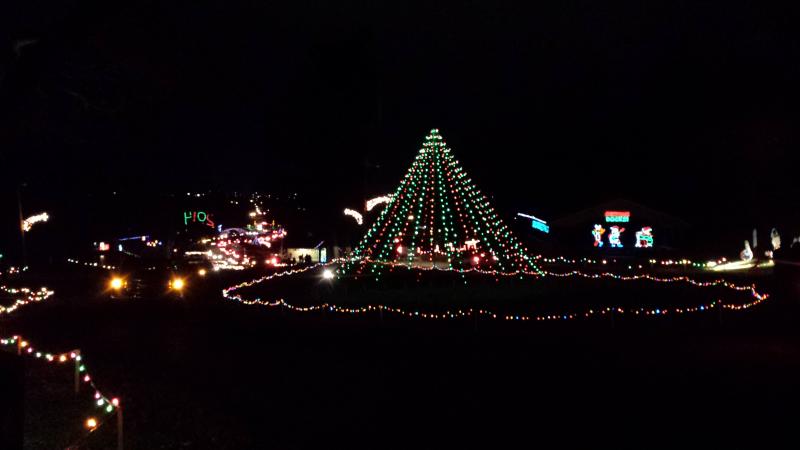 On the Saturday after Thanksgiving, enjoy not just one, but two Martinsville holiday traditions! The WCBK Christmas Parade and the Winter Wonderland Festival of Lights event at Jimmy Nash City Park will both take place on November 25. The second annual WCBK Christmas Parade will step off at 6 pm. This fun parade of lights will travel down Washington Street from Downtown Martinsville to Home Avenue before ending at Jimmy Nash Park, just in time for the Winter Wonderland Festival of Lights kickoff event. Twinkling holiday lights throughout the park come to life and families gather for photos, crafts and carols. Right in step with the gift giving nature of the holiday season, this is the event that keeps on giving - because if you can't be there on the night of the lighting (Nov. 25 this year), you can still come enjoy the lights throughout the holiday season! They'll remain lit from dusk until the park closes, every night until after New Year's Day. Drive through any evening you happen to be in town! **Please note: The park now closes at 9 pm. If you are inside the park, the automatic gate will open to let you out, but you cannot drive into the park after 9 pm.
November 27 or 28, 6 pm
5 East, Downtown Mooresville

5 East in Mooresville will host a fun Christmas Wine & Wreath Workshop on your choice of two dates - November 27 or 28, beginning at 6 pm. Participants will enjoy a complementary glass of wine as they create a beautiful holiday wreath with instruction from Petals From Kaye. There will also be cake by the slice and wine flights available for purchase, as well as several Christmas themed vendor booths to browse. Tickets are $75 per person and are available online. 
 
December 1, 5:30-7 pm
Fire Station, Morgantown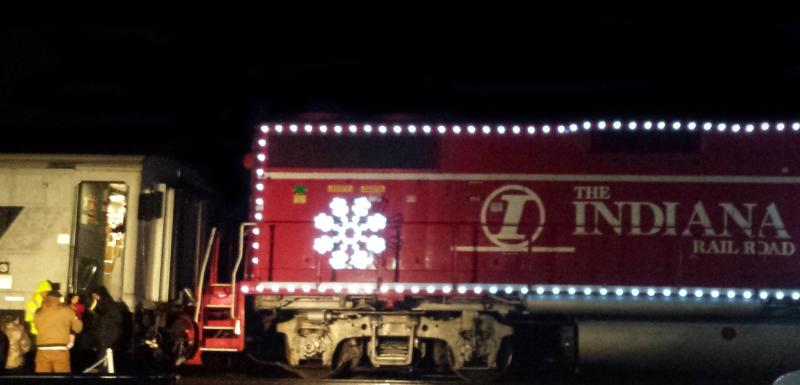 Enjoy an evening with some of your favorite characters on the Indiana Rail Road's annual Santa Train! Morgan County's stop on the Santa Train route is the small town of Morgantown. The train will stop just behind the Morgantown Fire Department on Friday, December 1, at approximately 5:30 pm. (Please note, this is a bit earlier than previous years.) There will be refreshments available while you wait for your turn to snap a photo with Santa and his friends. The Santa Trail will close at 7:00 pm to move on to the next town on the railway line, so don't be late!
December 2, 7 pm
Bicentennial Park, Mooresville
On the eve of the annual Victorian Christmas Celebration in Mooresville, the community gathers at Bicentennial Park (at the intersection of Indiana and Main Streets) in downtown Mooresville to light the community Christmas tree. There will be activities beginning at 5 pm and fun for all ages. This event takes place the evening before the Victorian Christmas Celebration, so be sure to plan to attend both fun events celebrating Christmas in Mooresville! Plan to stop by the 5 East Christmas Market, open both Friday during the tree lighting and Saturday during Victorian Christmas!
December 2, 10 am - 5 pm
Several stops around town, Mooresville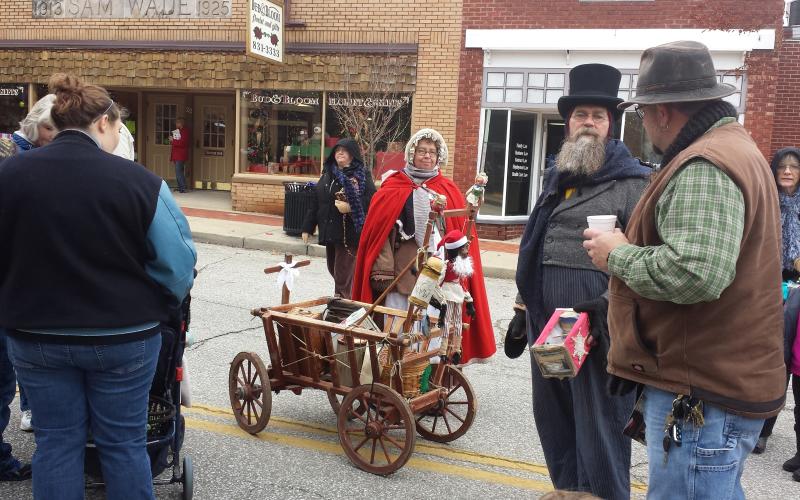 Each year, on the first Saturday in December, Mooresville, Indiana goes back in time to the Victorian era. (Don't ask us how... it just happens!) Don't worry - you needn't be in Victorian garb to enjoy this fun-filled holiday event (though costumes are certainly welcome). The Victorian Christmas Celebration involves performances, artisan booths, craft shows, demonstrations, activities, characters in costume and more. Come prepared - you may very well encounter Father Christmas... or Ebeneezer Scrooge! There are carriage rides available and a free trolley service ensures that you get to each and every stop so you don't miss a thing. There are four(!) craft and vendor locations this year to browse through, as well as a variety of performances. This year's event is on Saturday, December 2.
December 2, 5-8 pm
Prince of Peace Lutheran Church, Martinsville

On Saturday, December 2, head over to Prince of Peace Lutheran Church in Martinsville for their annual Bethlehem Walk event. This event features an expanded live nativity experience that will take you back to the first Christmas night. The evening begins with a brief introduction in the church sanctuary before guests proceed outside to walk through the gates of Bethlehem, encounter Roman guards, hear the words of prophets and wise men, shop merchants' tents, encounter a variety of live animals and visit the inn and stable. Cookies and hot chocolate are served in the fellowship hall after the event. The event is free, but tickets are issued in 10-minute time increments, so reserve yours early. 
December 3, 3-7 pm
The Venue, Downtown Martinsville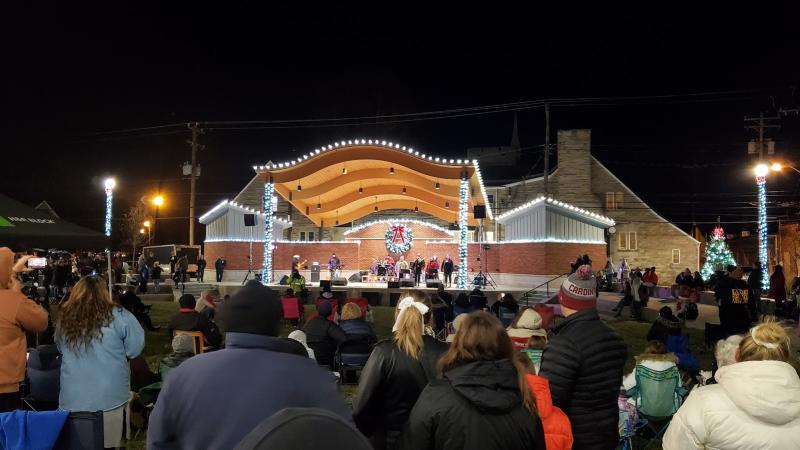 Head for Downtown Martinsville on Sunday, December 3 to enjoy some holiday cheer at this year's Bobby Helms Jingle Bell Rock Christmas Music Spectacular and Christmas Tree Lighting! There will be live music, fun holiday characters, carriage rides and more beginning at 5 pm, with the tree lighting up on the courthouse lawn at approximately 7 pm. Come out and enjoy the season with an event that's fun for all ages! New this year will be vendor booths, a 30-foot Christmas tree and ice skating. Yes, we said ice skating! Part of Jefferson Street will be transformed into an ice skating rink using synthetic ice. Skating will be available on both Saturday and Sunday and skates will be available for rent on site. 
December 5, 6 & 7, 5:30-7:30 pm
Brickhouse on Main, Martinsville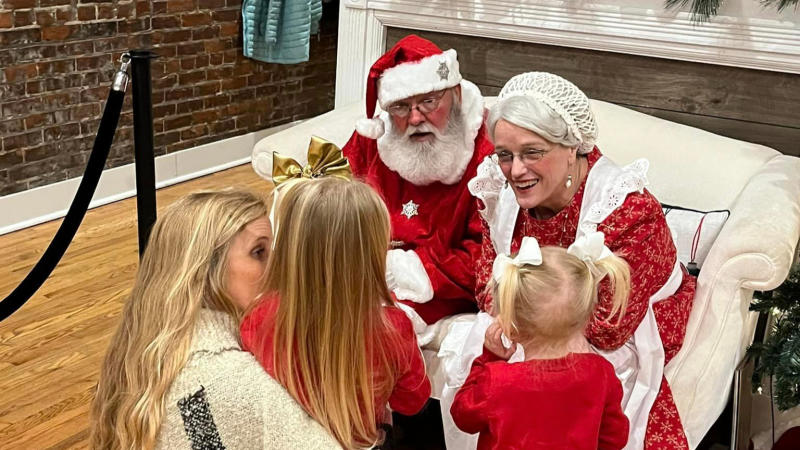 Brickhouse on Main will present their second annual Holly Jolly Party with Santa and Mrs. Claus on Tuesday and Wednesday, December 6 and 7. This fun event features holiday snacks, reindeer games, craft stations, gifts and more! Tickets include a light meal, photo opportunities, individual time with Santa, gifts, games and more. Cost is $20 per child and $10 per adult. A family package is available for $50 per family (two kids and two adults; additional participants are $10 each). Specify which date and number of attendees when you purchase tickets.   
December 9, 10 am - 5 pm
Downtown Martinsville Historic District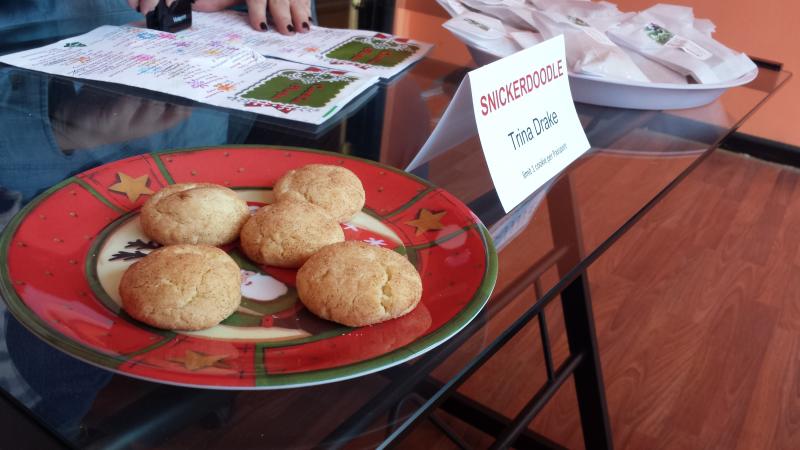 The second Saturday in December is cookie time! The Martinsville Cookie Stroll takes place each year, featuring hundreds of volunteer cookie bakers, dozens of cookie stops, lots of fun live performances, Holiday Market from the Morgan County Farmers Market and so much more. Cookie Passports must be purchased in advance. They are available online, while supplies last, beginning the first week of November. A couple of things to know: cookie passports almost  always sell out, so get yours early; not everyone in your party needs a passport (unless you want to go home with A LOT of cookies); and you only need a passport if you want to collect cookies at each stop - everything else is free (including entertainment)! Home base for the Cookie Stroll is the Art Sanctuary of Indiana. 
December 9, 11 am - 2 pm
Old Town Waverly Park, Martinsville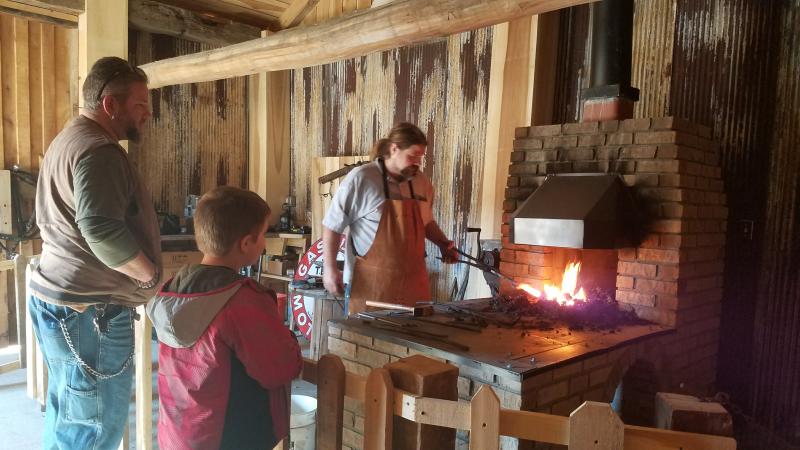 Old Town Waverly Park will once again host Santa in the Park, featuring a chance to interact with the jolly old elf himself inside the historic bank building, holiday stories and songs along with cookies and hot chocolate inside the church building at the park and fun demonstrations from the past in the demonstration area. This year's event will take place on Saturday, December 9. A blacksmith will be on hand to show his skill at the forge and other traditional arts will be demonstrated as well. Additional activities will be available throughout the park at this free event. All ages are welcome. 
December 9, 7 - 10 pm
Cedar Creek Winery & Brew Co, Martinsville

This one is for adults only - join Cedar Creek Winery and Brew Co for a celebration of the end of Prohibition… and Christmas! The 1920's style Speakeasy Soiree will be held on Saturday, December 9, beginning at 7 pm. This "after hours" party is a 21+ event and a password is required for entry. Travel back in time and embrace the Jazz Age with an evening of live music, 1920s attire and more! Put on your 1920s best and celebrate with Jazz tunes and giggle water reminiscent of times past. To get the password, make sure you get your tickets reserved early, before they're gone!
Happy Holidays from
Visit Morgan County!