Need some quality time with your girls? Ladies, we've got everything you need to know to plan a fabulous girls' getaway weekend in Morgan County to reconnect with your best gal pals. Getting away from the daily routine is a great way to reconnect with friends (or family members), and who doesn't love a mini-vacation, right? This summer (and even into fall) is the perfect time to get the girl gang together for a weekend trip. Many summer and fall activities take place outdoors, so you can catch some sun while you enjoy reconnecting. If you have a large group, we recommend checking out one of the area's vacation home rentals or booking the entire facility at Brickhouse Loft in downtown Martinsville (that's eight suites, if you're counting to make sure it can accommodate your group).  
What are you waiting for, ladies?
Get your girl group together and make your reservations now for summer fun with the girls in Morgan County. Here's your planning checklist: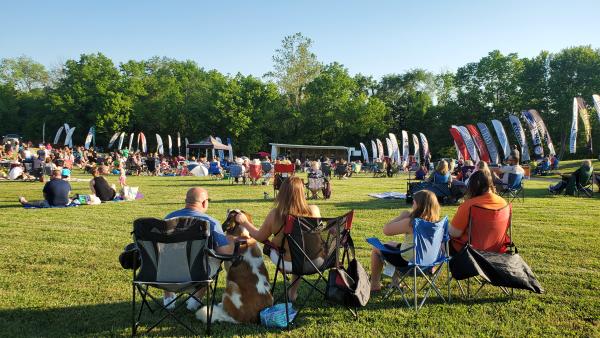 Live Music: 
Nothing beats live outdoor concerts with friends, so make sure you plan your visit around one (or more) of the fun summer concerts happening in Morgan County this year. We've got a complete list of concerts you can reference, but here's a quick list of ongoing summer concert series in the area. 
Drink at the Creek Concert Series 
Cedar Creek Winery, Brew Co and Distillery, just east of Martinsville off SR 252 
Martinsville Summer Concert Series
July 15, & July 22
Downtown Martinsville (Free!)
Mooresville Summer Concert Series
July 9, July 16, & July 23
Pioneer Park in Mooresville (Free!)
Rockin' Out at Pioneer Park
September 24
Pioneer Park in Mooresville
Morgan County Fair Free Stage - July 30-Aug. 6
Morgan County Fairgrounds, Martinsville
Old Settlers Picnic - Aug. 7-9
Pioneer Park, Mooresville
Don't forget about live music at other venues and summer festivals. Here's a quick run-down of venues that regularly host live music events and upcoming one-time shows: 
Black Dog Brewing Company
Casual, free performances on select weekends
Just south of Mooresville on SR 67
Cedar Creek Winery, Brewery and Distillery
Casual, free performances each weekend
Just east of Martinsville on SR 252
Foxcliff Golf Club
Casual, free performances each Friday, 6 pm.
Artie Fest Concert featuring Colton Chapman - July 8
Morgan County Fairgrounds, Martinsville
Willowfield Lavender Farm Summer Concert: The Wilsons - July 23
Willowfield Lavender Farm
 
Must Visit Attractions: 
We all know there are certain attractions that you must visit in a destination, and this short list is full of unique experiences perfect for creating memories that will last a lifetime. Grab the girls and head out to sample locally crafted beverages, enjoy an afternoon on horseback or just relax amid the lavender... (Click on each location for more information.)
Black Dog Brewing Company
Just south of Mooresville on SR 67
Cedar Creek Winery, Brewery and Distillery
Just east of Martinsville on SR 252
Grandpa Jeff's Trail Rides
Skinner Road, Morgantown
Hunter's Honey Farm
Between Martinsville and Paragon
The Art Sanctuary
Sycamore Street, Martinsville
Willowfield Lavender Farm
Smoky Row Road, between Martinsville and Mooresville
 
Where to Shop: 
It's not a girls' getaway without a little shopping! Whether you're looking for unique pieces to add to your own wardrobe or need to find a gift to take home to the kids, we've got you covered in Morgan County with a wide variety of independently owned boutiques and shops. Besides, shopping on Main Street is so much more interesting than walking around a mall all day... 
Berries & Ivy Country Store
Home decor, textiles, local art
Downtown Martinsville
Cedar Creek Boutique
Ladies' apparel, Cedar Creek logo items
Cedar Creek Distillery, Martinsville
Her Boutique
Ladies' apparel, purses, shoes
Downtown Martinsville
Fables & Fairy Tales
Books, toys, t-shirts, crafts
Downtown Martinsville
The Farmhouse Market
Home decor, some apparel, custom builds
Downtown Mooresville
The Painted Cottage
Ladies' apparel, Vera Bradley, gifts
Downtown Martinsville
The Sterling Butterfly
Artisan creations, handmade jewelry, gifts
Downtown Martinsville
Wood and Cotton
Ladies' apparel, furniture, home decor
Main Street, Martinsville

Where to Eat: 
We're not going to give you an exhaustive list here, because... well, you can check out our existing restaurant listings for the full list of options, or take a look at our local favorites list if you'd like to support independently owned local eateries. Our local participants in the statewide Indiana Foodways Alliance Culinary Trails are always a hit! But, we do like to make recommendations, so here's a quick, short list of some of our favorite places in the area that are well-known, great with groups, or just too fun to pass up!
21 North Eatery + Cellar
Chef-owned, unique menu, fun drinks
Downtown Martinsville
Cedar Creek Eatery
Sandwiches, salads, pretzel charcuterie
Cedar Creek Winery, Martinsville
Come N Git It Diner
Breakfast all day, great tenderloin
Downtown Martinsville
Gather Around BBQ
BBQ Nachos, daily delectables, awesome patio
Downtown Martinsville
Gillispie's Cigar Bar
Beer, Wine, Cocktails, and, of course, cigars
Downtown Martinsville 
Gray Brothers Cafeteria
So many choices, pie, great for groups
Indiana Street, Mooresville 
Martinsville Candy Kitchen
100+ year-old tradition, ice cream, candy canes
Downtown Martinsville
Paula June's Tea Room & Cakery
Soups, sandwiches and tasty treats
Downtown Martinsville
Peddler's Loft Cafe
Soups, sandwiches, wraps and salads
Downtown Martinsville
Squealer's BBQ
Award-winning BBQ, great tenderloin
High Street, Mooresville
The Waffle Whitch
Super-fun theme, DIY waffle bar
Downtown Martinsville
Zydeco's Cajun
Authentic flavors, fun atmosphere, bread pudding
Downtown Mooresville
 
Where to Stay: 
Yes, we've got hotels in the area, including well-known chains you can trust when it comes to quality. However, for a fun girls' getaway we highly recommend checking out our vacation home rentals and the newest area lodging option, Brickhouse Loft. Both will help create the perfect atmosphere for your ladies-only adventure. Vacation home rentals give you all the fun of a slumber party experience away from home and Brickhouse Loft can be rented out completely - all eight suites and the public lobby space, just for your group!  

Vacation Home Rentals
Throughout the County, many rural
Brickhouse Loft
Downtown Martinsville