It's time to start thinking about fall colors in south central Indiana! When will the leaves start to turn? How long with they last? When will peak color be? Well, we've got your back. Here's the scoop on when (and where) to see beautiful fall foliage in Morgan County. We're already seeing little hints of color around the county, but the real show won't start until October. According to this year's fall foliage prediction map from smokymountains.com, we'll have patchy color for the Fall Foliage Festival, (Oct. 10-13), Then, Mother Nature will ramp things up to hit peak color around the end of October, with good color probably extending into early November, depending on the weather. That makes the next few weeks the perfect time to get out and experience the beautiful fall colors of Central Indiana. As home to approximately 80% of the tree canopy of Central Indiana (defined as Indianapolis and the immediate surrounding counties), Morgan County is the perfect place to find the colors of all. If you're looking for a place to see some beautiful fall color, without all the crowds you'll find in some of the well-traveled fall getaway destinations, here are a few great options for viewing fall foliage in Morgan County:
Burkhart Creek Park
More than 80 acres of beautiful landscape offers incredible fall scenery, including forest, prairie grasses and of course, the creek. Explore the area on foot on the paved trail, crushed gravel trail or more traditional hiking trails through the woods. As you're viewing the fall foliage, keep an eye out for wildlife, too – Burkhart Creek Park is home to bats, birds (including raptors), small mammals and more!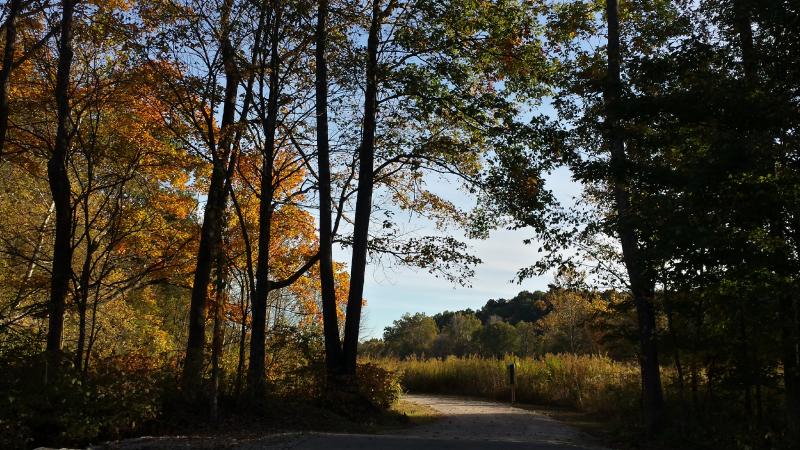 Grandpa Jeff's Trail Rides
View the fall beauty from horseback! Grandpa Jeff's is one of the premier trail riding locations in Indiana, located in the scenic countryside where Morgan County meets Brown County. Whether you're looking for a brief trail ride, a longer excursion, group hayride and bonfire or a quick pony ride for the small ones in your life, Grandpa Jeff's offers the experience you're looking for – they can even arrange for a real campfire event with s'mores!
Jimmy Nash Park
Literally just down the street from the Martinsville downtown square, this 90 acre park features a two-mile hike through the hilly forest, numerous play areas and shelter houses and even a scenic pond at the base of the hill. You'll easily forget you're still in town! Check our calendar for fun upcoming events like Pumpkins in the Park.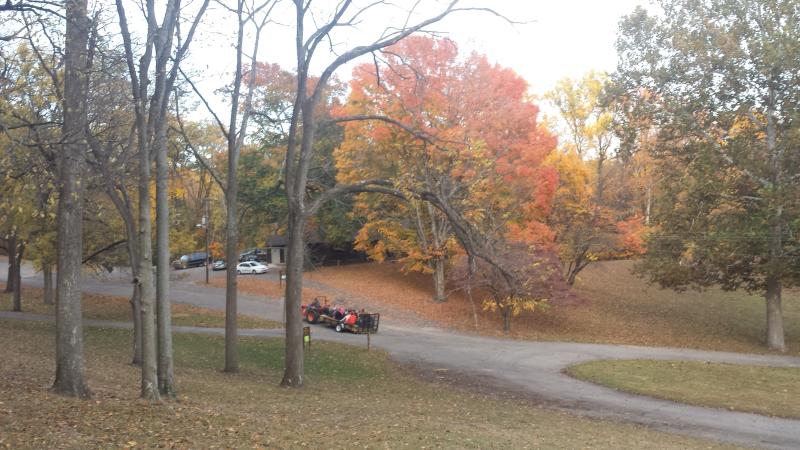 Link Observatory
If you're in the area on the right weekend, don't miss the Link Observatory Space Science Institute and their monthly open hours. The facility is located atop Observatory Hill, just off Highway 67, and is surrounded by forest. If the gate is open, you're welcome to drive in and look around! They're open at least twice each month - on the first Saturday of the month beginning at 8 pm, the observatory is open for public viewing if the weather proves cooperative that night, then on the third Thursday of each month, they're open during daytime hours from 9 am to 4 pm. Stop by and learn about the history of this hidden gem from the experts!
Morgan-Monroe State Forest
For the serious forest-lover, this state-owned property offers thousands of acres to explore. Two 10-mile trail loops offer the opportunity to get up close and personal with the fall color! Don't worry, if you're not quite that serious, a shorter hike, a picnic or a drive through the forestry property are also great ways to see this beautiful, mature hardwood forest. Camping is available as well for those looking for a longer visit.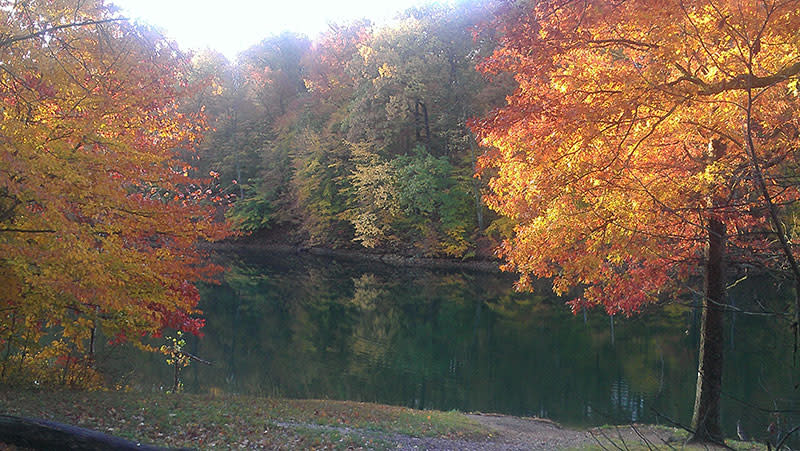 Pioneer Park
Located in Mooresville, Pioneer Park is a well-developed 150 acre park, featuring paved trails, forest trails, play areas and more. The easily walkable asphalt trails total nearly six miles, with the longest single trail being just short of three miles. The woodsy atmosphere and two covered bridges aren't all this park has to offer – the Soaring Eagle Zip Line allows you to view the fall splendor from up in the trees! See our calendar for Halloween Hike information.
Waverly Park
The White River Greenway Trail makes Waverly Park one of the best places to immerse yourself in the colors of fall. The paved trail offers a two mile journey along the river, where you'll find not only fall color, but lots of migratory birds as well! There are also several interpretive signs to explain the park's colorful past and on some weekends, there are blacksmith and tinsmith demonstrations as well. Don't miss their fun Halloween event, the Haunting of Waverly!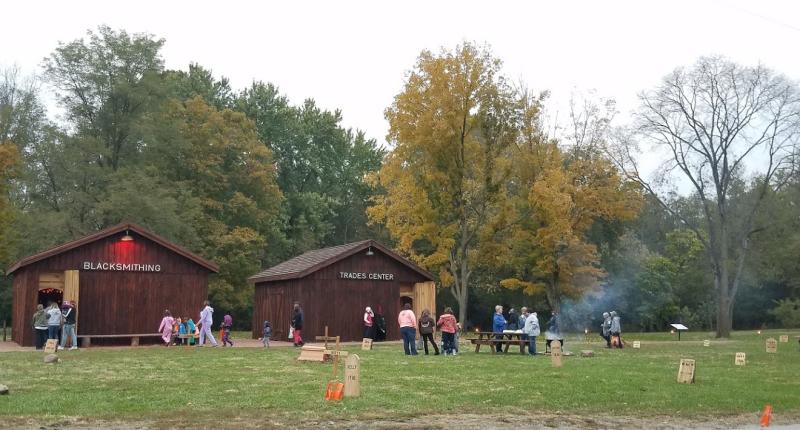 Take a Drive
Morgan County is overflowing with scenic beauty and colorful foliage. Taking a drive on just about any county road, or even smaller, less busy state highways. Both can offer a beautiful morning or afternoon of enjoyment for all ages without the exertion of a major hike. Pack up the car and head for the hills – when the glaciers stopped near Martinsville, they left behind breathtaking hills in the southern part of the county that are just perfect for leaf viewing! Stop by a local eatery for a tasty lunch or dinner along the way.  If you plan a visit don't miss out on seasonal fun like a visit to Anderson Orchard or a scary trip through Hall's Haunted Halls – widely regarded as one of the best haunted houses in the region.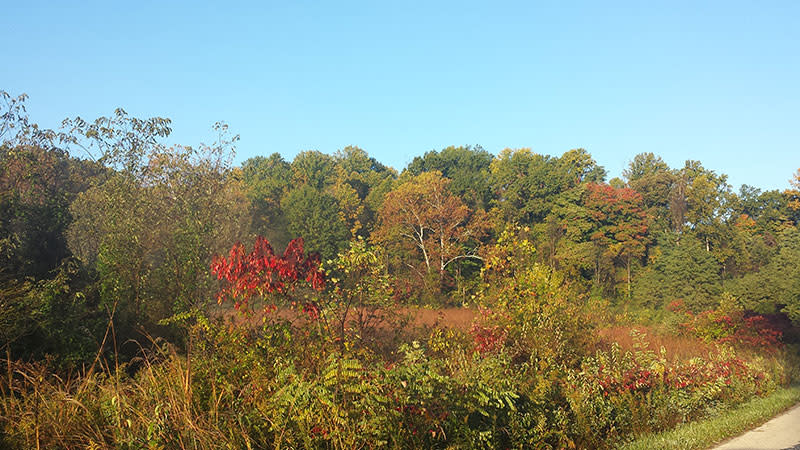 Updated 9/20/2019