Are you looking for fun bicycling events in Central Indiana? Well, add these two Morgan County rides to your list! The Central Indiana Bicycling Association (CIBA), hosts two annual rides in Morgan County. Both offer great routes through gorgeous, scenic countryside with multiple route lengths to choose from, making these rides a great choice for all levels of cyclists. You do not have to be a member of CIBA to participate, however helmets are required for all riders.
The Wall
This weekend ride will take place on June 30, beginning at 8 am and leaving from Pioneer Park in Mooresville. Participants should park near the aquatic center. The ride has three route lengths to accommodate various levels of riders. Route lengths are 12 miles, 33 miles and 55 miles. The ride has four big climbs to the SAG stop at the historic Wilbur Schoolhouse. Restrooms will also be available at the schoolhouse. The Wall is extremely steep but short out on the long route, and there is a short cut to ride down, then climb back up! As always helmets are required for participants. It is also recommended that you ride with a light on this route for safety and double check your brakes prior to the ride!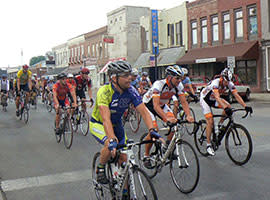 Morgan County Cemetery Tour
The Morgan County Cemetery Tour is held each year in early July. This annual ride takes place on the first Saturday in July (that's July 6 this year) and features routes of 14, 30 and 50 miles. Enjoy a beautiful ride in the country with SAG stops located at "eternally restful" locations. There are SAG stops at 15 miles and 31 miles. Roads along the route range from flat to rolling hills. At the end of the ride, enjoy cold refreshing watermelon and other goodies as you mingle with your fellow riders. This ride leaves from the Morgan County Courthouse at 8 am and is free to the public. All three route options are possible from the starting point, so you can decide to go shorter or longer at defined decision points on the route. The longest route takes you past more than a dozen historic cemeteries, plus the sculpture garden of limestone artist C.R. Schiefer!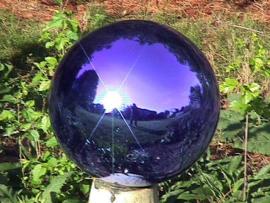 Mystic Menagerie Ride
In August, the Mystic Menagerie Ride has been an area tradition for more than 25 years. The ride was named for the number of gazing balls that were once encountered along the route. This year's ride will be held on August 10. Participants can choose from 18, 32 or 62 mile routes - don't worry, they're all beautiful, scenic rides. The short ride has one hill on an out-and-back course. The medium length ride has four big climbs and two hills. The long ride loops around Lake Lemon and promises about 8-9 big hill climbs. Both the medium and long routes take you through the beauty of Morgan-Monroe State Forest. Riders meet at South Elementary School in Martinsville and depart at 9 am.  
For more on bicycling routes in Morgan County, check out this guest blog post from former resident and avid cyclist, Joanne Stuttgen. Joanne and her husband Mark were instrumental in the creation and longevity of these two CIBA rides in Morgan County.