It's hard to beat a good pizza... and it tastes even better when you know it's from a locally-owned small business rather than a national chain. In fact, one of our local favorites has a saying: "No Farms. No Pizza." Since Morgan County is still a relatively rural area compared to the rest of Central Indiana, we have an intimate understanding of that phrase, and we know that food doesn't get any better than local! No matter what part of the county you're exploring, sometimes you just need a great pizza to complete your day. Here's your guide to local pizza places in Morgan County, by community. (Note: We are including only locally owned independent and Indiana-based chains in this list.)
Martinsville
Greek's Martinsville is  a locally owned franchise of the larger Greek's Pizzeria chain. Located on the corner of Morgan and Main Streets on the downtown courthouse square in a beautiful historic building that has been completely renovated, Greek's serves up amazing gourmet  pizza, bread sticks with tasty garlic butter, pasta dishes, salads, sandwiches and more. Now open for carryout and delivery, Greek's will be opening for dine-in service soon with a fantastic patio on the back side of the building. The Groggy Goat Tap Room will be serving up a wide variety of craft beer (and wine, too). Stay tuned for an opening date for dine-in service.  
Mooresville
The kitchen at Black Dog Brewing Company is now up and running with a variety of appetizers and flatbreads. Check out their four flavors of flatbreads - the classic Pepperoni, exactly what you expect; the always tasty Margherita, with fresh mozzarella, tomatoes, basil and balsamic glaze; the unexpected G.O.A.T. (Greatest of All Time), with bacon, mango, goat cheese crumbles and balsamic glaze; and for those who like it spicy, El Diablo, with jalapenos, banana peppers, red onion, pepperoni, spicy sausage, mozzarella and a spicy red sauce. Each flatbread contains four slices, so they're perfect for ordering several to share with friends. 
A state-wide chain, Chicago's is known for their deep dish, but also offer traditional, thin and crispy and even cauliflower crust options! They're also known for their always fresh salad bar and tasty breadsticks. Specialty pies with traditional crust include "The Chicago Fire," (pepperoni, jalapeno and buffalo sauce), "The Big Hurt" (pepperoni and chopped pepperoni) and Hawaiian (ham and pineapple). The most popular specialty deep dish is probably the signature "Skyline" (sausage, pepperoni, mushroom, onion and green pepper), though several others are available. Don't forget about the sandwiches, pasta dishes and dessert pizza, too! Dine in or carry out. Outdoor dining and private party rooms are available at the Mooresville location.
Located just off Highway 67 near the Mooresville Showtime Cinema, Greek's Pizzeria Mooresville is locally-owned, but part of the larger Greek's family of restaurants. Serving up all your Italian favorites, including pasta dishes, salads, sandwiches, and of course pizza and breadsticks, Greek's is sure to please! Choose from one of their unique (and tasty) gourmet pies or create your own with your favorite flavors! 
Popz Pizza
A relatively new addition to the local pizza scene, Popz features fun specialty pies like the "Far Out" (pepperoni, sausage, ham, onions, green peppers, mushrooms, banana peppers, black and green olives), "Meat Freaks" (pepperoni, sausage, ham, Italian sausage, ground beef and bacon), "Mother Earth" (mushrooms, onions, green peppers, banana peppers, black and green olives, tomatoes), and the "B-Que" (chicken, onions and BBQ sauce). Also popular are their 8 inch sub sandwiches and their "421 Munchies" including brownie or cookie pie and Popz cannolis! Carry out or delivery only.
A local chain with three locations west of Indianapolis, Sal's Famous Pizzeria is a favorite among Mooresville residents and visitors alike. Dough is made from scratch daily, sauces are handmade and cheese is grated on site. Known for authentic Italian style pizza, calzones, sandwiches and pasta dishes, plus fresh salads and mouthwatering sweets, or "Dolci."  Select pizzas are available by the slice, or order a specialty pie - "Hawaiian" (ham, pineapple and mozzarella), "Margherita" (tomatoes, olive oil, basil, garlic and herbs), or "Calabrese" (sausage, pepperoni, ham, bacon and mozzarella). Choose from deep dish Sicilian or hand tossed Neopolitan crust. Dine in or carry out. Outdoor seating available. 
Monrovia
A Monrovia tradition, Dawg House pizza is locally owned and operated since 2001. Dough is made fresh on site every day and can be thickness can be customized. Known for tasty breadsticks, calzones and fresh salads in addition to amazing pizza. Specialty pizzas are available in four sizes for dine in or carry out. Patio seating available. Specialty pies include "The Bulldog" (sausage, pepperoni, ham, bacon, mushrooms, green peppers, onions, black olives, banana peppers and double cheese), "The Meats" (sausage, pepperoni, hamburger, ham and bacon), BBQ or Buffalo Chicken, Hawaiian, and Chicken Bacon Ranch. 
Paragon
Famous for gourmet pizza and their signature garlic breadsticks, Tomato Pie Pizza Joint is a Morgan County must when you're near Paragon. Don't miss the fresh salads, fresh baked melted sammies, lasagna and gelato in addition to their specialty pies. Sauce is made in house and a wide variety of toppings are available to create your own pizza. Specialty pies include "The Ultimate" (pepperoni, sausage, ham, green peppers, red onions, mushrooms, black olives and banana peppers), "Hawaii Five-O" (ham, bacon, pineapple and mushrooms), "Finger Lickin' BBQ Chicken" (grilled chicken, Sweet Baby Ray's BBQ sauce, red onions, jalapenos and cheddar), "White Roma" (garlic butter sauce, spinach, black olives, sliced tomatoes, topped with oregano, feta red wine vinegar and olive oil), "Carnivore" (meatballs, pepperoni, sausage, ham, and bacon), and "Chicken Bacon Ranch" (grilled chicken, range dressing, bacon and cheddar). Pizza is available by the slice during lunch only. Eat in or carry out. Patio seating available, sometimes even with live music!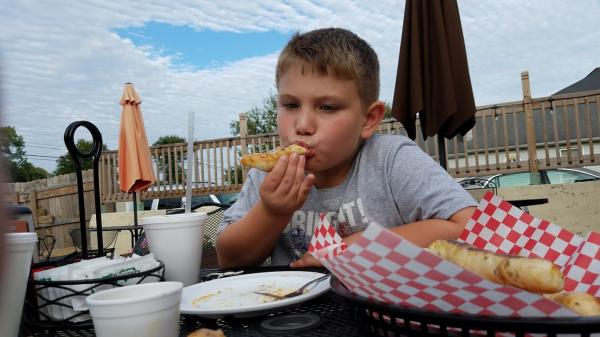 If pizza's not appealing to you today, file these options away for later and be sure to check out additional locally owned dining options in our local favorites section!