It's time for the annual Morgan County Antique Machinery Show! What's that? You've never been and aren't sure why you'd be interested? No worries, we've got you covered. Here are the top 10 reasons to attend this fun (and free!) annual event on June 23 - 25 at the Morgan County Fairgrounds:
(Find the full weekend schedule here.)
# 10  You're still a kid at heart. 
In addition to all of the event's other offerings, you'll find a treasure trove of toys inside the 4-H Building at the Fairgrounds. In addition to life-sized models, there's also a concurrent TOY Tractor Show going on inside! Take a look at how toys have changed over the years. 
# 9  You've seen some of that old stuff before, but have NO idea what it was for or how it worked. 
You'll be able to impress your friends (or your grandparents) with your newfound knowledge after attending this event!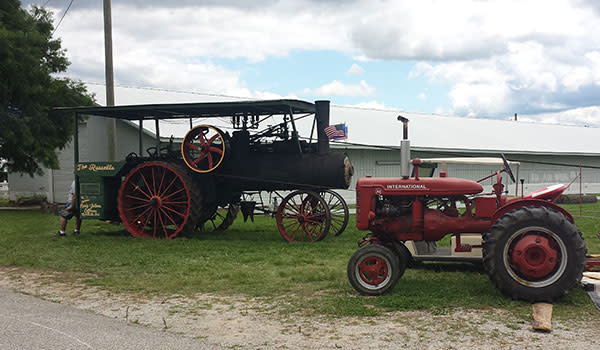 # 8  You love a good story (or several). 
People love to talk about their collection and every piece of machinery at this show has a story behind it!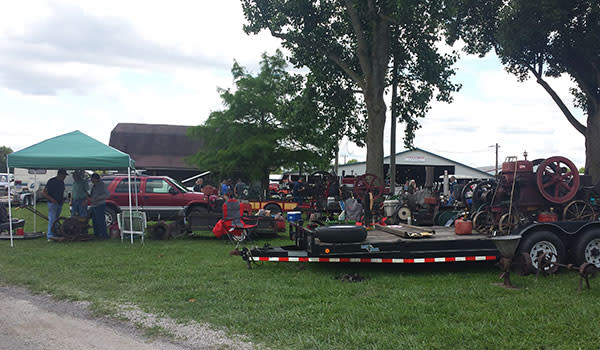 # 7   Watching the steam puff out of these shiny old steam engines is just somehow very satisfying. 
You can literally see the care that's taken to keep these old beauties running smoothly.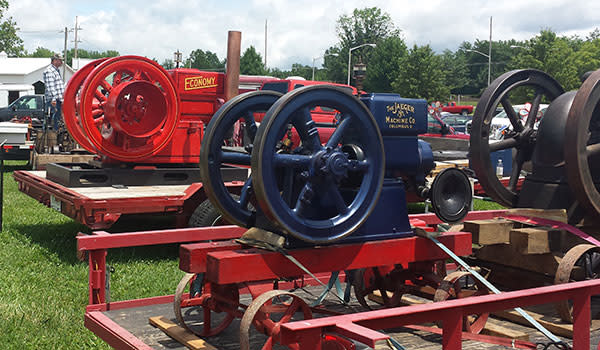 # 6   You love a good swap meet. 
This event's got one and believe me - you never know what you'll find until you get there! It's treasure hunting at its finest.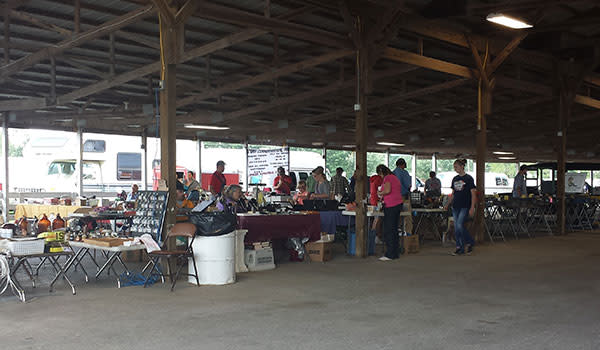 # 5   You love the Morgan County Fair homemade ice cream booth and you can't wait until the end of July to get some. 
Yes, for those of you who have never been to the Morgan County Fair, it's THAT good. (Don't worry - the Young Farmers of Morgan County run the booth for this event and they've assured us it's the very same recipe.)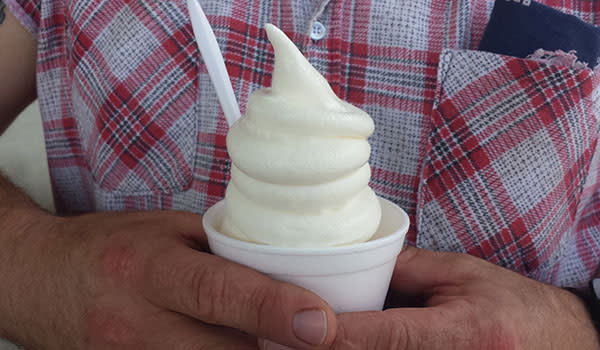 # 4   You want your kids to know how people used to do things, you know - before iPhones... 
and don't worry, the kids really will be interested in these old machines and how they work.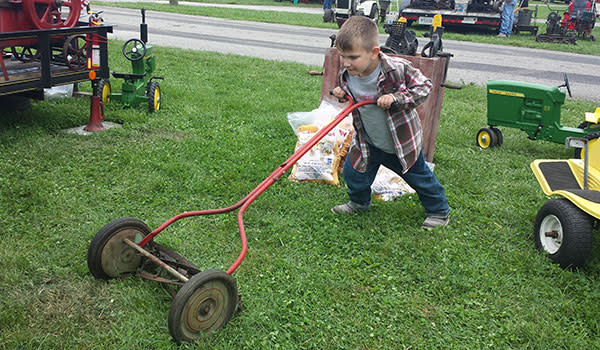 # 3   You really like tractors, perhaps those of a particular color... (We won't judge - even if you prefer the green ones.) 
Don't miss the Annual Tractor Drive on Saturday, beginning at 5 pm and featuring tractors of all shapes, sizes and colors.
NEW this year is tractor pulls in the evening! Don't miss Antique Tractor Pulls at 6 pm on Friday and Antique & Farm Tractor Pulls at 6 pm on Saturday.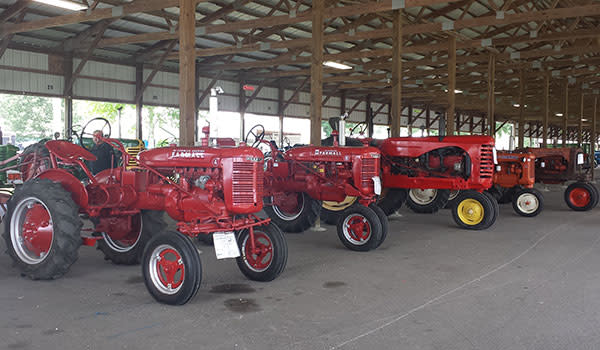 # 2   Your kids are fascinated by how things work. 
It may not be new technology, but it still counts as, well... STEAM (AKA Science, Technology, Engineering, Art, Math) and they might accidentally learn something!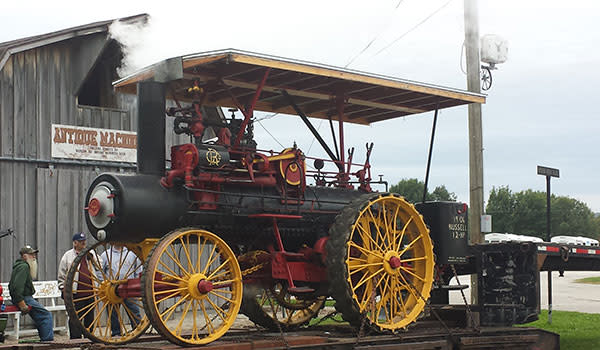 # 1 Tractor powered sawmill demonstrations are just pretty darn cool. 
(Go ahead, try to argue - we've got proof!)
BONUS:
The Morgan County Antique Machinery Show comes with a bonus - it takes place in conjunction with another popular area event on Saturday. The Rally in the Valley 5K Run/Walk, Car Show and Motorcycle Ride will take place on June 24, also at the Morgan County Fairgrounds, so you get two events for the price of..... wait - both events are actually FREE! Come out and run the 5K, check out the cool cars and trucks on display, take a tethered hot air balloon ride, enjoy some live music, or participate in the motorcycle ride in addition to the antique tractors and steam engines. 

ALSO THAT WEEKEND:
This will be a busy weekend in Morgan County, so here's the scoop on other events you might want to check out throughout the area: 
Summer weekends kick off on Thursdays here in Martinsville, so if you come early, be sure to check out the Cruise-in on the Square on Thursday evening, beginning at 5 pm. On June 22, Downtown Martinsville will also host a FREE Summer Concert at the new downtown venue featuring The Doo! Music begins at 7:30 pm; food trucks and locally crafted beverages available on site. (Bring your own seating.) 
On Friday, June 23, you can enjoy even more live music at Pioneer Park in Mooresville. The Indy Annies will be featured at the Mooresville FREE Summer Concert Series, with music beginning at 7 pm. Food trucks and locally crafted beverages available on site. (Bring your own seating.) 
The Morgan County Farmers Market will take place on Saturday morning from 9 am to 1 pm on the lawn at The Main Connection, 460 South Main Street. This includes locally grown and locally crafted items as well as tasty treats such as cinnamon rolls and breakfast cookies. 
Cedar Creek Winery, Brewery and Distillery will host Drink at the Creek Concert on Saturday, June 24, beginning at 5 pm. Nationally touring tribute bands will take you back to the 80s with music from Barracuda (Heart tribute band) and Crush (Bon Jovi tribute band). Tickets are available online or at the winery in advance for $15 per person or at the gate for $20 per person. Not only is this concert series family-friendly, kids age 12 and under are FREE! 
The historic Paragon Speedway will host dirt track racing on the evening of Saturday, June 24. Enjoy all the good, old fashioned fun of racing on a dirt oval at this track that's been in operation since the 1950s . The evening will feature 410 Sprints, Super Stocks, Bombers, Hornets and Mod Lites. Hot laps start at 6 pm; racing starts at 7 pm. 
WHERE TO EAT:

As we said above, there will be food on site at the Antique Machinery Show, but if you're looking for a quiet, sit-down meal in a locally-owned establishment, here are some recommendations in or near downtown Martinsville: 

21 North Eatery & Cellar is located on Jefferson Street on the courthouse square. Their chef-inspired cuisine and full bar makes it the perfect place to relax. Open Saturdays from 11 am to 11.
Brain Chillzz - Yes, they've got shaved ice and ice cream, but did you know this eatery on Morgan Street also has great sandwiches, salads and more? They've got a great outdoor patio, too! Open Saturday and Sunday. 
Come N Git It Diner is located on the courthouse square at Morgan and Main Streets. They serve breakfast (all day!) and lunch and are open on Saturdays from 9 am to 3 pm. 
Gather Around BBQ is just off the square on Main Street and offers all your favorite BBQ options - pulled pork, ribs, chicken and even catfish! Open Saturdays from 11 am to 9 pm. Patio seating is available (and dog-friendly!).
Greeks Pizzeria & The Groggy Goat Tap Room, located at the corner of Main and Morgan Streets, is a crowd pleaser for all ages. Pizza for the kids, a great craft beer selection for Mom and Dad... everyone wins! Patio seating available. 

Los Reyes, on the corner of Washington and Main Streets on the downtown square offers authentic Mexican flavors in a fun atmosphere. They are open for lunch and dinner. (Also watch for their mobile taco truck - it's often found at the corner of Morgan and Ohio Streets if they're not at an event.)

Just need a snack or something sweet for the drive home? Pop in to the Martinsville Candy Kitchen for a sweet treat. It's a 100+ year local tradition. Choose from a wide variety of candy (including sugar free), two dozen ice cream flavors and an old fashioned soda fountain!