It's fair time! After many fairs were cancelled last year due to the COVID-19 pandemic, there's a pent up demand among Hoosiers for all those fun fair experiences we just love to enjoy each summer. There are ninety-two counties in Indiana and each and every one hosts a county fair each summer. So, what makes the Morgan County Fair so special? 
We're so glad you asked! There are several great reasons for your family to venture out to the Morgan County Fairgrounds in Martinsville during the fair, July 30 - August 7, 2021. Here are a few of of the annual fair events, activities, and foods that keep us coming back year after year!  
Sweet Corn, Donuts, Ice Cream, Grilled Cheese...
Yes, all the typical fair food will be there - elephant ears, funnel cakes, corn dogs... but if you want a truly amazing fair food experience, get off the Midway and take advantage of the many local food vendors in the Food Court area of the fairgrounds. You'll find the Morgan County Cattleman's Association (go for the ribeye sandwich and roasted sweet corn), the Pork Producers (pork burgers and pork chops are always a hit), fresh homemade-recipe ice cream from the Morgantown Fire Department, made-to-order grilled cheese from Tri-Kappa (try one with tomatoes and mozzarella), freshly made donuts from Kappa Kappa Sigma, as well as pizza, tacos, tenderloin sandwiches and freshly-made lemon shake-ups! The best part? Your money is going to support a number of great local organizations that make a positive impact on the Morgan County community. (If you love food - don't miss the Chopped Challenge on Saturday, August 8. Area home chefs compete to see who can make the tastiest culinary creations with this year's signature ingredient!)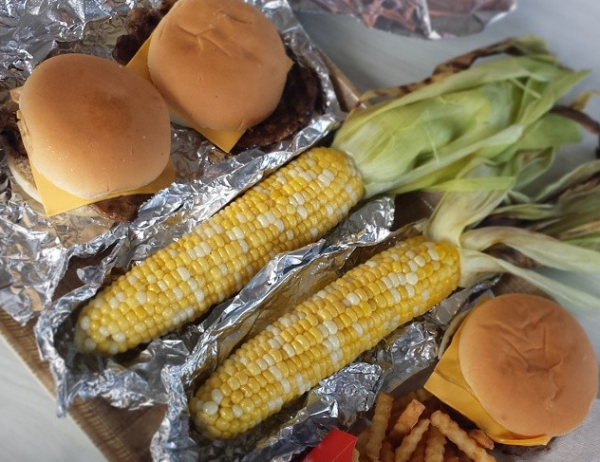 Animals!
4-H members from around the county will have their animals on hand at the fairgrounds for shows and that means you get to walk through the barns and meet them! You never quite know what all you'll see at the fair. One year, we were lucky enough to see two tiny little twin goats only a few days old! Whether your kids love larger animals like cows or small ones like rabbits, chickens or ducks, you'll probably see it at the fair. Check the fair schedule for specific show times. 
Free Stage
The Morgan County Fair Free Stage always has a fun line up of entertainment scheduled throughout fair week. Shows range from musical acts to the Silly Safari live animal show. JB and Melanie O'Neal will take the stage on Sunday, August 1 at 5 pm. On Monday, August 2, local favorites Blue Eyes & Grey Skies will perform beginning at 6:30 pm. The Rhythm Chasers Cloggers will perform on Tuesday, August 3 at 7 pm. Silly Safaris returns with a live animal show on Wednesday, August 4 at 8 pm. Terry Lee and the Million Dollar Band Band will perform on Thursday, August 5 at 8 pm. On Friday, August 6, the Free Stage will welcome the Gold Dust Band with Reva Brummett and friends at 8 pm. At 7 pm on Saturday, August 7, Derrick Weidner and special guest Olivia Doyle will take the stage. 
Rodeo
On Saturday, July 31, the grandstand will welcome a rodeo event from Xtreme Roughstock Tour, LLC. This is an IPRA sanctioned event. General admission will be $10 per person for adults or $5 per person for kids age 6 to 12. Kids under 6 are free. A behind-the-scenes "pit pass" is available for $15 for those who'd like a little closer look at the action. A family hour will be held from 5:30 to 6:30 with rodeo action beginning at 7 pm.    
Garden Tractor, Stock Truck & Tractor Pulls
What's a county fair with some sort of pulling event? On Sunday, August 1, the Grandstand will feature the garden tractor, stock truck and tractor pulls beginning at 6 pm. Admission is $10 for adults and $5 for kids ages 6-12 (kids 5 and under are free). Get access to the pits for $15 per person! For those who like their pulling events with a side of cuteness, there's also a Kiddie Pedal Tractor Pull at the Antique Machinery Barn on Wednesday, August 4. Registration for that event begins at 12:30 pm.
ATVs, Quads, Dirt Bike, Flat Track Racing & the Demolition Derby 
Other featured events taking place at the grandstand during the fair include ATVs and Quads on Monday, August 2, beginning at 7 pm, Dirt Bike Racing on Tuesday, August 3 at 7 pm, Flat Track racing at 7 pm on Wednesday August 4, and of course, the Demolition Derby! There will be two nights of Demo Derby action - Friday, August 6 and Saturday, August 7. Action begins both nights at 7 pm. Admission for any of these events is $10 for adults, and $5 for kids ages 6-12 (kids 5 and under are free).  Pit Gate admission is $15 per person. 
Midway Rides
Fair events begin on Friday, July 28, but if you're bringing the kids out for Midway rides, please note that the midway does not open until Sunday, August 1. Kiddie day features unlimited rides for only $13 per person between 1 and 5 pm on Wednesday, August 4 and Saturday, August 7. Family Nights will feature unlimited rides for $20 per person from 6 pm until closing Monday through Friday, August 2-7.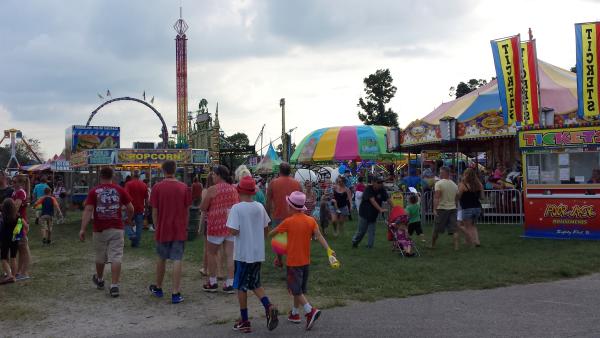 For more details on the events listed here or additional information on this year's fair, visit Morgancountyindianafair.org. See you at the fairgrounds!