No, seriously... we're talking about actual rocks in Morgan County.
As you explore the various things to see and do around our county, you might stumble upon some very interesting rocks. Some may be painted wild and crazy colors, have intricate (or simple) designs, or feature a short quote or inspirational saying. Where do these things come from? Why are they here? What are you supposed to do with them (if anything)? 
Here's the scoop. The painted rock trend has been sweeping the nation, and though not always known for being "trendy," Morgan County is all over this fun, feel-good trend! The idea is pretty simple - known as "kindness rocks," these colorful little tokens were originally created in Cape Code, MA (at least that's the earliest example we could find) and their purpose is simply to spread kindness, joy and inspiration. Kindness rock projects have been started by Kindergarten classes, community groups, and just regular citizens across the United States and beyond. Here's a quick look at how it all works:  
Most communities who participate in the trend have a Facebook page or group where you can share the story of the rock you've found. This lets the folks who created a particular rock see that their work is spreading happiness and it's still out there being discovered, or that it's found a new home with someone who loves it. It also creates a fun way to have an afternoon treasure hunt! Rock creators will often post clues in on Facebook to where you might find new rocks, or photos of new rocks to be on the lookout for as you move around the community. Rocks can have a theme - or not. Some may have a connection to the general location in which they're found - rocks painted like animals or bugs may be found in a park; rocks with book related themes may be found near a library, and so on. Creators will tag each rock with the name of the Facebook group or page associated with their community. Simply search on Facebook to find one associated with the community where you find a rock to let hem know it's been found. 
The rules are simple - if you find a rock, you have three choices:
You can choose to keep it. That's okay - perhaps the saying or design it carries speaks to you in a special way. That's why they're created - to bring joy and spread kindness. If you choose to keep a rock because you love it or it means something special to you, its work has been done.  
You can report that you've found it on the appropriate Facebook page or group, then place it somewhere new. Rocks can be hidden (please leave some sort of clue to help others find it, especially if it's in a tricky location) or simply left out in the open for the next person to find. Clues can be in the form of photos, riddles or other tips. 
You can replace it with a rock you've painted, or simply add your new rocks to the mix. The more the merrier! Just be sure to include the page or group associated with the community that "rocks!"
Depending on where you are in Morgan County, here are links to the appropriate groups or pages to report rock sightings: 
Martinsville Painted Rocks
This page was created by an individual in the City of Martinsville and has quickly grown to a community of area residents who paint and hide rocks around Martinsville (and maybe a bit beyond). Rocks will be marked with "Martinsville Painted Rocks" or "#martinsvillerocks." This is a public page, so anyone can post about rocks they've created or found in the area.

Mooresville Rocks
Mooresville Rocks is a community art/outreach program dedicated to bringing art into everyday lives and incorporating all members of the community. Rocks are hidden throughout town and even the surrounding area - Mooresville rocks have been found in Monrovia, Eminence, Camby and even Plainfield! Rocks will be marked with "Mooresville Rocks." This is a closed group, so you may have to ask to join in order to post about your latest find.

Paragon Painted Rocks
The small community of Paragon "rocks," too! Rocks should be marked with "Paragon Painted Rocks" and occasionally you'll also see the hashtag "#paragonrocks" being used. You'll find these rocks in the small town of Paragon and maybe even in other nearby places like Burkhart Creek Park.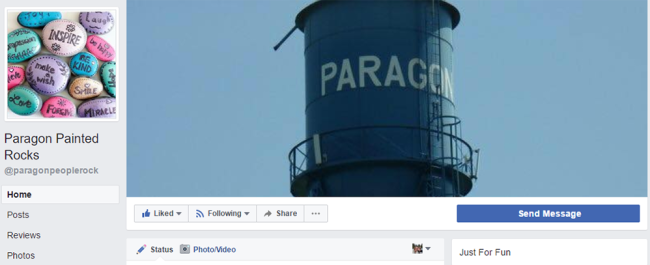 Most rocks will simply be to spread joy and happiness, but you'll also find a few with a larger mission to raise awareness for a particular cause or organization, rocks painted in memory of someone or even rocks that help promote local business. Business related rocks may include a special offer - be sure to check! Those who create them really do appreciate seeing updates on where their little creations have been found and absolutely love to see that they've brought a smile to your face. So, the next time you're out and about in Morgan County, don't forget to watch for tiny colorful pieces of happiness - because Morgan County Rocks!