It's time once again for March Madness! The year 2021 found Indiana in the perhaps enviable position of hosting the entire NCAA Championship Tournament - an unusual situation created by the lingering COVID pandemic. Of course, Indy and it's surrounding area was up for the challenge! Long known as a "basketball state," Indiana has what some might consider to be more than its fair share of great basketball-related places to visit, famous Hoosier coaches and players, and legendary high school basketball gymnasiums. Our friends and colleagues at Visit Indiana put together some fantastic statewide stories to highlight Indiana's basketball heritage for tournament attendees and fans across the country. We thought we'd bring the focus a bit closer to home here in Morgan County. 
Like most of the state, basketball heritage runs deep in Morgan County. Here are a few of our favorite local hoops related sites, stories and people.
Notable Sites: 
Glenn Curtis Memorial Gymnasium at John R. Wooden Middle School
Named for Coach Glenn M. Curtis, who coached John Wooden and his teammates to three consecutive state championships, this historic gymnasium was once part of Martinsville High School. Built in 1923-24, the two-story, rectangular, steel frame building sheathed in brick and limestone was named for Curtis in 1959, the year after his death. A beautiful structure, the gym was once known as Indiana's largest, seating more than 5,000 fans (in a community that had a population of 4,895, according to the 1920 census). The gym is now part of John R. Wooden Middle School, which sits on the former site of Martinsville High School. Formerly known as West Middle School, the school was renamed to honor Coach John Wooden (longtime successful coach at UCLA ) and now welcomes all 7th and 8th grade students in Martinsville, utilizing John Wooden's Pyramid of Success as a guiding principle for students. The gym now features a 135 ft. wall wrap made up of historic photos.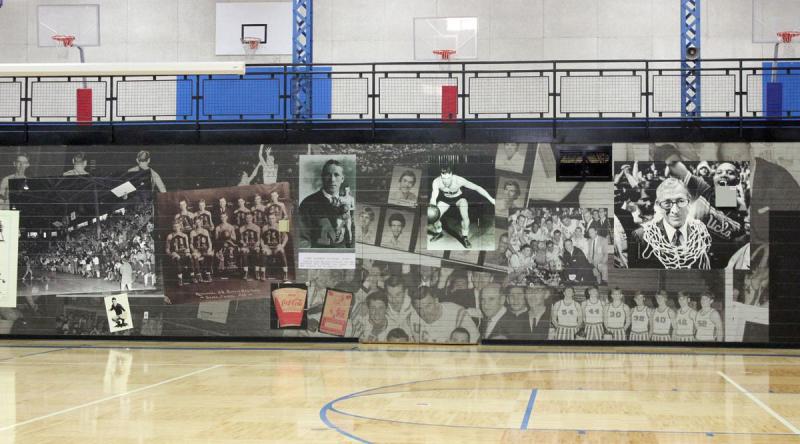 John Wooden Gymnasium at Martinsville High School 
Located at Martinsville High School, John Wooden Gymnasium debuted in January of 1977, replacing Glenn Curtis Gymnasium, which had served the high school since 1925. The gymnasium that bears his name seats exactly 5,200 spectators, the same number of fans as the older facility. Home to both the boys and girls Martinsville Artesians basketball teams, the gym is one of the more modern fieldhouses of its size in the state. The school's championship banners are displayed prominently, of course, and a reproduction of John Wooden's signature adorns the court. Wooden's fame as the winningest coach in the NCAA, thanks to his time at UCLA, isn't the only reason he's honored. The coach was also a very well-known motivational speaker with popular philosophies on success.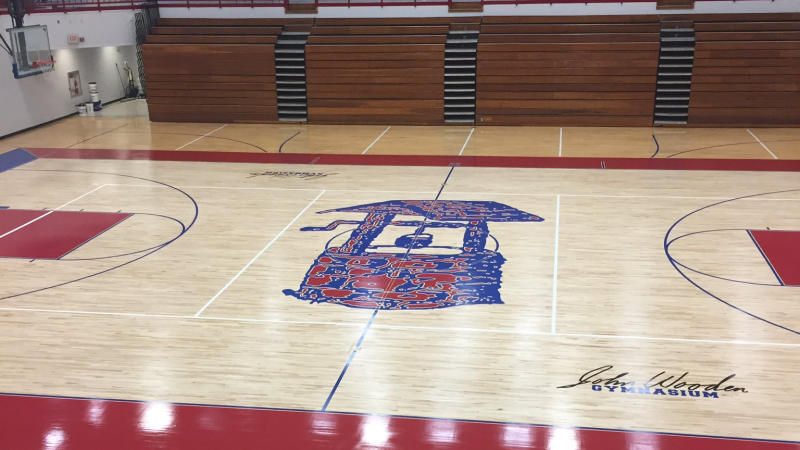 Branch McCracken Historic Marker at Monrovia Public Library
Located at 145 S. Chestnut Street in Monrovia, just outside the Monrovia Branch of the Morgan County Public Library, the historic marker honoring Monrovia native Coach Branch McCracken was installed in 2017, thanks to the Indiana Historical Bureau and the Monroe-Gregg School District. The marker commemorates Emmett Branch McCracken's contributions to Hoosier basketball as both a player and coach. McCracken graduated from Monrovia high school where he was a star player, and eventually replaced the legendary IU coach Everett Dean before becoming a legendary IU coach in his own right.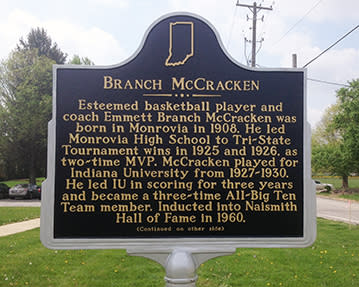 Fun Stories & Facts:
One County, Two Legendary Coaches:
Martinsville's John R. Wooden and Monrovia's Emmett Branch McCracken were both typical boys who grew up in Morgan County with a love of basketball. Sometime rivals, and also friends, the two men would end up in coaching careers that were oddly symmetrical. Wooden played for Martinsville High School, where he led the Artesians to three consecutive state championships under Coach Glenn Curtis. McCracken played for Monrovia High School, where he led the Bulldogs to consecutive Tri-State Championships in 1925 and 1926. In an interesting twist of history, both men ended up coaching at major NCAA schools - Branch McCracken at Indiana University Bloomington and John Wooden at UCLA, where he would become known as the "winningest coach in the NCAA," a title he still holds to this day. It's been said that McCracken was actually scouted by UCLA for their open coaching job, but not wishing to leave his home state, he instead pointed the UCLA recruiters to his friend "Johnny Wooden" who was at the time a coach and athletic director at Indiana Teachers College (now Indiana State University). 
The Integration of College Basketball:
In another strange twist of historic symmetry, both of these legendary coaches from Morgan County ended up leading desegregation efforts in college basketball. The 1947-48 Indiana Teachers College (now Indiana State University) team, coached by John R. Wooden, was the team responsible for integrating post season collegiate basketball tournaments. In 1946-47, the Sycamores earned an invitation to the National Association of Intercollegiate Basketball (NAIB) National Tournament; the most prestigious small-college tourney in the nation. Wooden declined the invitation, citing the NAIB's policy banning African American players. You see, one of Wooden's players was Clarence Walker, an African American from East Chicago, Indiana. The following season, after again earning their conference title, with the support of the NAACP and Walker's parents, Wooden accepted the invitation and led the Sycamores to the NAIB National Tournament final round, losing to Louisville. That year, Walker become the first African-American to play in any post-season intercollegiate basketball tournament, coming off the bench to contribute eight points.
Also, in 1948, Coach Branch McCracken created major waves in the Big Ten conference when a newcomer to the team from Shelbyville, Indiana scored eight points to help the Hoosiers to a victory in their season opener against Depauw. That newcomer was sophomore Bill Garrett (also an Indiana basketball legend). By welcoming Garrett onto the team at Indiana University, Coach Branch McCracken had broken the longstanding "gentlemen's agreement" among Big Ten coaches, which had effectively kept African Americans from playing basketball in the conference. In that Dec. 4, 1948 season opener, Garrett, who was a starter, broke the league's color barrier at the opening tip. It took another two years for other Big 10 teams to follow suit and integrate their teams.  
Young Love Trumps Coach's Rules:
The power of young love is illustrated in a popular local anecdote about then-player John R. Wooden and his girlfriend (and eventual wife) Nell Riley. You see, Coach Glenn Curtis required his players to be in bed by a certain time on nights before games, and Curtis lived just a short distance away from John Wooden's family home. (Nell also lived conveniently nearby on Wayne Street.) Young John could, in fact, see the windows at Coach Curtis' home from his bedroom. As the story goes, John would lie in bed, still fully clothed, and await the Coach's pre-game night call to ensure that his players were in bed on time. After assuring the Coach (truthfully, at that!) that he was indeed in bed, John would then watch for the lights to go out at Coach's house. Then, he would sneak out and down the street to Nell's house for a late night visit! John and Nell met as freshmen at Martinsville High School, married when they were both 21 years old and remained happily married for 53 years. 
Sweet Memories:
Coach John Wooden returned to Martinsville many times throughout his lifetime and it is said that each and every time he returned to Indiana for a visit he made time for one very special stop. The Martinsville Candy Kitchen was a popular date spot for John and Nell in their younger years and it provided a welcome trip down down memory lane whenever they happened to be in town. In fact, the staff at the Martinsville Candy Kitchen can still still you exactly what John's favorite candy choice was - he purchased some each time he was in town for a visit. We won't spoil the fun, but be sure to ask the next time you visit this iconic 100+ year old Martinsville candy shop!  
Public Art: 
John R. Wooden is prominently featured in two major public art projects in Martinsville. The "Martinsville Mural," located adjacent to the McDonald's on Burton Lane, depicts Wooden as both a player and a coach, along with many other historical aspects of the area. More recently, Rediscover Martinsville, the city's Main Street Organization, spearheaded a public art project to use works from local and regional artists along with John Wooden quotes on signal boxes throughout the city. Quotes were chosen by the featured artists and are prominently featured along with the artwork. John R. Wooden Middle School also displays historic photos on a 135 ft display inside the historic Glenn Curtis Gymnasium and Wooden's teaching philosophies, including his Pyramid of Success above the school entrance.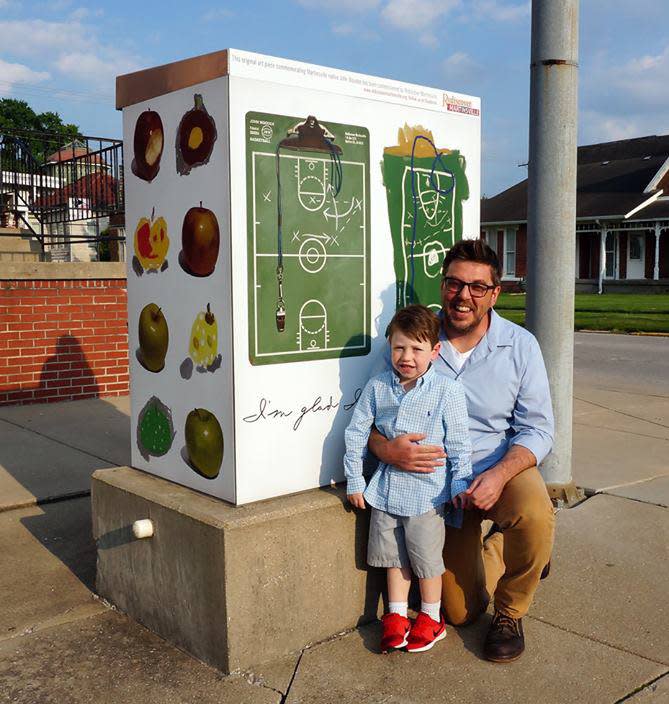 Local Personalities: 
Glenn Curtis
Glenn M. Curtis spent 21 years as an Indiana high school basketball coach, primarily at Martinsville High School. First coaching at Lebanon High School for one year, winning the state championship, then moving on to Mooresville where he coached for a single semester (approximately 10 games) before moving to nearby Martinsville High School. His Martinsville Artesians won 396 games and lost only 139. During his tenure as coach, they won 16 sectionals, 14 regionals and three state championships. In the five years from 1924 to 1928, Martinsville was in the Championship game every year but 1925. He was the first Indiana high school coach to win four state championships and he never had a losing season as a coach. Curtis eventually coached at Indiana Teacher's College (now Indiana State University) where he led the Sycamores to eight consecutive winning seasons and three appearances in the NAIA Championships. He was succeeded there by his protege, John Wooden. Curtis then returned to Martinsville as the Superintendent of Schools from 1948-1955. 
Claude Curtis
Claude Curtis helped Martinsville to three consecutive Sweet 16 appearances in 1916, 17 and 18. He was named all-tournament all-state as a junior. He won the first mental attitude award, then named the Gimbel Award, in 1917. Curtis went on to play at DPauw University, where he starred in both basketball and football for two years. After serving in WWI, Curtis played football for John Heisman at the University of Pennsylvania. He was inducted into the Indiana Basketball Hall of Fame in 1973.
Lester Reynolds
In the early days of Martinsville basketball, Lester Reynolds was arguably the best. He was a two-time all-state selection and led the Artesians to a state runner up showing as a junior and a state championship as a senior. He was also a reserve player on the 1924 Martinsville state championship team and was second in state in the shot put as a senior on the track an field team. Reynolds went on to play four seasons at Indiana State University, earning honorable mention All-American honors in 1930. He was inducted into the Indiana Basketball Hall of Fame in 1972. 
John R. Wooden
Before Wooden made his name as the arguably the best basketball coach of all time, he was a standout player at Martinsville. Wooden led the school to three consecutive state championship games from 1926-28 and won the title in 1927. He went on to become a start player at Purdue University, named a college All-American for three consecutive years. Wooden was Player of the year in 1932 when the Boilermakers were named the national champions by the Helms Athletic Foundation. He was one of the first five members of the Indiana Basketball Hall of Fame in 1962. Wooden went on to play professionally in the National Basketball League before embarking on a coaching career that began at the high school level and ended with leading UCLA to 10 national titles in a 12 year period. 
Branch McCracken
As a student at Monrovia High School, Emmett Branch McCracken twice led the school with only 32 male students to the Tri-State Tourney championship game - a 74-team event held in Cincinnati. He was MVP of that tourney both times. Playing at Indiana University, McCracken set a Big Ten scoring record and was an all-conference selection. He played professionally in Indianapolis, Fort Wayne, Dayton, Ohio and Oshkosh, Wisconsin. McCracken coached for eight years at Ball State University before succeeding the legendary Everett Dean at Indianan University. As the head coach at IU, his Hoosiers won three Big 10 titles, one co-championship and were runner up eight times. IU won national championships under McCracken in 1940 and 1953. Branch McCracken was inducted into the Indiana Basketball Hall of Fame as one of the first five members in 1963.
Arnold Suddith
Arnold "Sally" Suddith was a freshman starter on Martinsville's 1927 state championship team, playing every second of the championship game. The four-year starter helped the Artesians back to the state finals in 1928, losing to Muncie Central. Suddith, a ball-handling guard, played at Indiana for Everett Dean, leading the team in scoring as a sophomore in 1931-32. He was then ruled ineligible after playing on an independent team. He went on to play with the Indianapolis Kautskys, among several other professional teams. Suddith was inducted into the Indiana Basketball Hall of Fame in 1976.
Mel Payton
Playing for the Martinsville Artesians from 1942-44, Mel Payton averaged 18.9 points per game in his senior year. There was no Indiana All-Star team named at the time due to WWII by Payton was named to the team 50 years later. After serving in the military, Payton starred at Tulane University, where he scored 1,166 points and set single-game (31) and single-season (426) rebound records as a senior in 1950-51. He averaged 11.8 points for his collegiate career and was named All-American as a senior. He played professional ball for the Philadelphia Warriors and the Indianapolis Olympians. Payton was inducted into the Indiana Basketball Hall of Fame in 2006.
Marvin Tudor
A graduate of tiny Eminence High School, Marvin Tudor was a four year letter winner in baseball and basketball and the team's leading scorer for three years. He scored over 1,100 career points in high school, then played basketball for four years and baseball for two years at Butler University. As a coach, Tudor spent a combined 17 years as the varsity coach at Triton Central, Plymouth and Huntington, where his teams combined won 11 sectional championships and one regional championship. He had only one losing season in 17 years, retiring with an overall coaching record of 292 wins and 108 losses. Tudor was inducted into the Indiana Basketball Hall of Fame in 2000 and became the president of that organization in 2011.
Tom Bowman
A three year starter at Martinsville, Bowman led the Artesians to two sectional titles and earned all-conference honors as a senior in 1959. Blossoming at Butler University, Bowman broke Bobby Plump's career scoring record with 1,334 points. He was a three-time all-conference selection. He was named the Indiana Collegiate Conference MVP as a junior when he averaged a career-best 18.4 points per game as Butler made its first NCAA tournament appearance in 1961-62. Bowman was an alternate on the 1964 US Olympic team and was inducted into the Indiana Basketball Hall of Fame in 2016.
Jerry Sichting
Averaging 21.1 points per game as a senior at Martinsville High School in 1974-75, Jerry Sichting  was named to the Indiana All-Star Team and set a career scoring record of 1,242 points. Playing college ball at Purdue University, Sichting averaged just under 10 points per game over four seasons. His best season came as a senior on the 1979 Big Ten championship team. Sichting went on to play 10 NBA seasons - five with the Indiana Pacers before winning an NBA title with the Boston Celtics in 1986. Sichting was inducted into the Indiana Basketball Hall of Fame in 2002.
Beth Piepenbrink-Schwecke
Morgan County's only female inductee to the Indiana Basketball Hall of Fame (so far...), Beth Piepenbrink-Schwecke played at Mooresville High School where she had a total of 906 career points, 996 rebounds, 247 steals and 236 assists as she led the Pioneers to success in the first years of IHSAA girls basketball. She was named a 1979 Indiana All-Star after averaging 14.4 points and 15 rebounds as a senior. The Pioneers were 67-12 in her career, winning four sectionals, four regionals and reaching the 1978 state finals. Piepenbrink-Schwecke became the first woman to record 1,000 points and 1,000 rebounds in Butler University history, with career totals of 1,378 points and 1,103 rebounds. She was named honorable mention All-American and was one of 10 players named to Butler's All-Sesquicentennial Team. She was inducted into the Indiana Basketball Hall of Fame in 2018. 
Much of the information on individual players above was sourced from the Indiana Basketball Hall of Fame. Be sure to visit the Indiana Basketball Hall of Fame for more fun information on notable Hoosier basketball players and coaches. The attraction itself is located in New Castle, Indiana but if you can't make it in person, there's tons of great content on their website, HoopsHall.com.