Pam Hurst, a Martinsville-based artisan who creates stunning jewelry pieces, is enjoying another turn in the celebrity-filled spotlight. 
Her new Neptunian collection was unveiled this week at an open house and launch party hosted at The Sterling Butterfly, Hurst's retail 
store in downtown Martinsville that features her own works as well as those from several other local and regional artists. 

A stylish pendant from the collection called Mermaid Tears (shown below, left) will be included this weekend in a celebrity event connected 
to New York Fashion Week – each guest in attendance will leave with Hurst's pendant, among other fabulous gifts.  Hurst is no stranger to 
the celebrity scene – her work has also appeared on the popular TV show The Vampire Diaries (shown below, right).
If you're in the Morgan County area – even if you're just passing through – you owe it to yourself to stop by The Sterling Butterfly. 
Trust me on this one – no matter what your tastes are, you're sure to find something you just can't leave without purchasing. 
Here are a few examples of what I'm talking about…
Adorable handmade headbands and gorgeous earthenware make great gifts, and tell me - 
who wouldn't love to have one of these adorable little sock creatures for their very own? 
Jewelry, hand-made boxes, woven rugs, fabric art, gorgeous hand knit creations, the list goes on and on...
You can even add some fashionable bling to your boot cuffs this fall! 
| | |
| --- | --- |
| | |
Are you IN love with Indiana, too? Wear your state pride on your sleeve or take home a souvenir from your trip to the Hoosier state 
with these super-cute t-shirts and beautifully unique necklaces!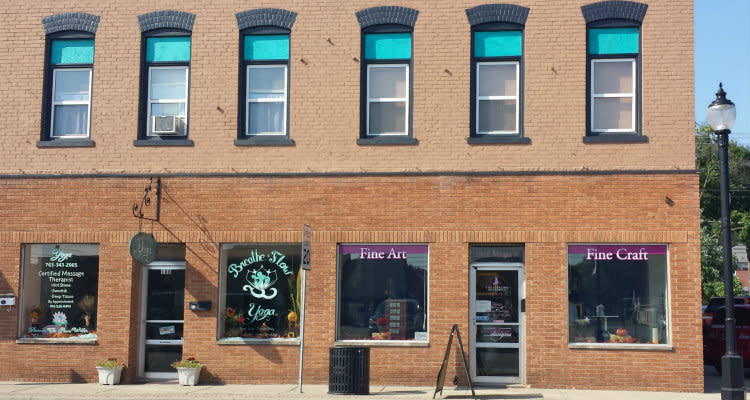 You'll find all this and much, much more at The Sterling Butterfly, located just one block off the historic downtown square in Martinsville. 
Stop in next time you're in Morgan County, and let them know we sent you! 

If you've got more than a few minutes to spare, be sure to bring your best girlfriends and make it a day-long excursion! 
Hit up JK's Cheesecake Cafe for a coffee - choose your favorite flavor and temperature (iced or hot) and enjoy a slice of cheesecake 
before heading out to discover some other great shops and antique stores in downtown Martinsville... 
and don't forget to swing by Cedar Creek Winery just outside of town. Trust me - you'll be glad you did!