Direct from our friends at the Martinsville Candy Kitchen, here's what to expect from a visit to this 100+ year old Morgan County icon, in a convenient FAQ format. The staff at the area's most popular candy shop have collected some of their most commonly asked questions, along with a fun video that highlights the process. Keep an eye on their Facebook page for details on candy pour times, not only during the holidays, but throughout the year (they do specialty pours for other holidays such as Valentine's Day, St. Patrick's Day, Easter, etc.). The shop is especially busy during the holiday season creating all that sweet Christmas magic, so before you call, please check out the information below to see if your questions have been answered. 
If you're not quite sure what to expect from a visit to the Martinsville Candy Kitchen? The entire process takes approximately two hours from start to finish, and delights kids of all ages! Often, the experience includes a bit of a history lesson as owner John Badger talks about the 100 year history of the iconic store. Families love the holiday tradition of visiting the Martinsville Candy Kitchen to watch as Christmas magic takes the shape of candy canes.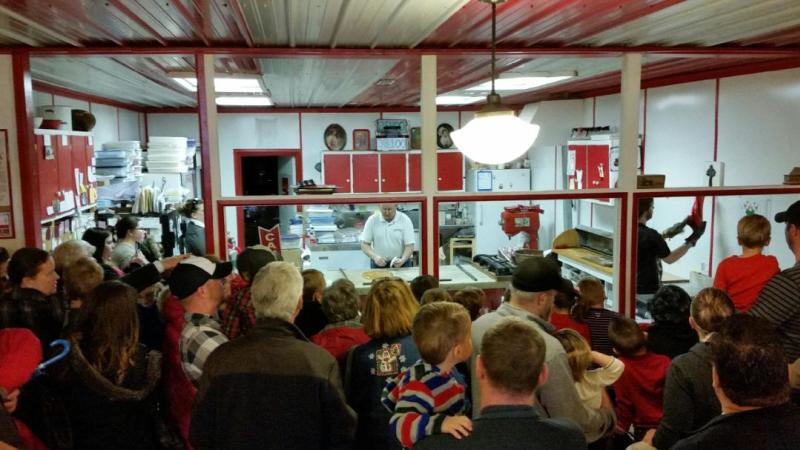 Candy Cane FAQs
Q: What are your hours? 

A: Our hours are kept up to date on our Facebook page. During November and December, we have public candy pours each Saturday and beginning the week of Thanksgiving we will schedule additional weekly candy cane pours until Christmas, so watch for those announcements. We often pour two to three times on Saturdays during the holiday season. We make every effort to post exact Saturday pour times to Facebook as early in the week as possible. General store hours are: 

Monday, 10 am - 8 pm
Tuesday, 10 am - 8 pm
Wednesday, 10 am - 8 pm
Thursday, 10 am - 9 pm
Friday, 10 am - 9 pm
Saturday, 10 am - 8 pm
Sunday, 12:30 - 4:30 pm 

Martinsville Candy Kitchen Facebook Page
Back to Top
Q: Do you have a website? 

A: Yes! We do now have a website: martinsvillecandykitchen.com. Information about the store is available on the site. Orders cannot be placed online, but you can download the order form. We currently utilize our Facebook page and Instagram account to post when we have a scheduled candy cane pour and we are always happy to respond to questions on both accounts. 

martinsvillecandykitchen.com
Back to Top
Q: When can we come watch you make candy canes? How can we find out pour times? 

A: We have public pour times every Saturday during the holiday season (November and December). Pour timers on Saturdays do vary a bit from week to week, but we try to make candy canes two to three times each Saturday during the season. You can also watch us make candy canes at other times of the year! No matter what season, keep an eye on our Facebook page, as that's where we share pour times. We try to share times as early as possible, but sometimes it may be the day before or even the morning of a Saturday, but November and December Saturdays will always involve at least two pour times, so go ahead and plan to visit - you can always explore the rest of Downtown Martinsville for a bit or enjoy a meal at a local eatery if you're early!

This year, we will also have public pours on weekdays! For those without kids, those with pre-school age children or those who home school, or maybe just after school if you're nearby, stop in Monday through Friday for candy cane demonstrations at 1 pm and 4:30 pm. As always, these are approximate times, and may vary a bit for a variety of reasons, usually by no more than 20 minutes or so. 

Martinsville Candy Kitchen Facebook Page
Back to Top
Q: If I can't make I can't to the store, can you ship candy canes? 

Yes, we can ship candy canes, however, we highly recommend that you pick up your order if at all possible. It is expensive to ship the candy canes and they have a much higher change of breakage during shipping. 
Back to Top
Q: Do you ever have pour times on Sundays? 

A: No, unfortunately, since it's a lengthy process (one batch takes 2+ hours of work!) and our hours are limited on Sundays, we do not make candy canes on Sunday. We do usually make other kinds of candies and goodies on Sundays, and visitors are always welcome to watch us work. We do try to have candy canes in stock on Sundays, though sometimes demand in the holiday season can overrun supply. 
Back to Top
Q: What size candy canes do you make and how much do they cost? 

A: Candy canes are available in three sizes - 6 inch, 9 inch and 12 inch, and can be made as traditional canes, or as straight sticks. Costs range from $1 each to $2.50 each depending on size. We also have 1/4 lb bags of candy cane pieces available for those who prefer their candy to be bite sized! Those are $375 per bag.
Back to Top
Q: What flavors of candy canes do you make? 

A: We can make candy canes in nearly 20 different flavors and colors. Specialty orders are welcome and we often do candy canes for special events such as weddings or reunions. Specialty orders are limited during the holiday season, so make sure you order early if you need them in the fall season or during the Christmas season. Please note that all large orders are limited during the Holiday Season (advance orders for non-traditional holiday flavors must be made by mid-October).

Flavors available include the classic peppermint and cinnamon, plus wintergreen and spearmint. Fruit flavors include grape, lemon, orange, strawberry, cherry, raspberry and blueberry. Old school flavors like butterscotch, root beer, licorice, clove and horehound are also available. Vanilla is a flavor just about everyone loves and cappuccino is a newer flavor that's also a hit. 
Back to Top
Q: What are candy order deadlines for the holiday season? 

A: The last day to order specialty flavors other than peppermint or cinnamon is now mid-October - this is to help ensure that we have more candy canes available in store during the Christmas shopping season. Orders are accepted for holiday flavors (peppermint and  cinnamon) until November 1. All large orders must be in by this date. Order forms are available in store and on our website. Please stop by and fill one out as early as you can to guarantee your Christmas candy canes!  

Though we limit large orders close to the holiday season, we always do our best to keep our holiday flavors stocked in store for those who visit. Holiday flavors are peppermint, cinnamon, spearmint and wintergreen. 
Back to Top
Q: Can we schedule a private candy pour for our group? 

A: Yes! We do offer private pours for groups, but we do book up very quickly for the holiday season. Opportunities for private group visits just before Christmas are limited since we have so many private pour times, but groups are always welcome to stop in for a public pour throughout the season. These tours are scheduled for 15 or more people, Monday through Friday, at 9 am. If possible, we recommend that you call to schedule a time during the "off season" either before or after the busy months of November and December, as your group will most likely have a better experience and we can give you more individual attention outside of that busy time. Consider a "Christmas in July" type visit! 
Back to Top
Q: How many candy canes do you make each year? 

A: We make more than 30,000 candy canes each year, most of them during November and December for holiday visitor and special orders, though we do make and stock candy canes throughout the year as well. Our largest year so far was the 2018 season with more than 40,000 candy canes made by hand. 
Back to Top
Q: Does Santa shop at the Martinsville Candy Kitchen? 

A: Yes, he does, and he's one of our favorite customers! Santa is always looking for high quality stocking stuffers, and as a result he visits the Martinsville Candy Kitchen at least twice each holiday season to stock up. We don't want to brag, but we're kind of on his good side, so we can usually convince him to hang around and talk with customers for a couple of hours when he visits! You can usually find the jolly old elf here at the store on the Saturday after Thanksgiving and the third Saturday in December. He's always happy to talk with kids of all ages while he's in the store, and parents are welcome to take photos during his visit. It's a busy time of year for him, so his time for visiting is always limited - watch the Visit Morgan County Calendar of Events and the Martinsville Candy Kitchen Facebook Page for specific dates and times. 

We're also pretty good pals with the Easter Bunny... 

Calendar of Events
Back to Top
If you go...
Be sure to explore other fun destinations in downtown Martinsville when you visit the Candy Kitchen. A visit isn't complete without lunch or dinner at a unique local eatery and browsing through local shops and boutiques. Make sure you leave plenty of time during your visit to explore, especially during the holiday season. Your family will love the small town atmosphere of a walk around downtown, taking in the holiday window displays and downtown lamp posts decorated for the holidays! If you have even more time to spend in the area, consider a trip to nearby Hunter's Honey Farm or Cedar Creek Winery, Brewery & Distillery to make your holiday even sweeter.