Did you know that more than 40% of all visitor spending in Morgan County is from food and beverage purchases? That's just one reason why Visit Morgan County has recently joined the Indiana Foodways Alliance. We have a number of wonderful restaurants that we just love sharing with out-of-town visitors! 

As part of our membership, we get to nominate up to 10 Morgan County restaurants for inclusion on the 19 Indiana Foodways Alliance trails. Last week, we were thrilled to host Indiana Foodways Alliance board members on Thursday and Friday so they could complete evaluations on our nominated restaurants. Of course, they all passed with flying colors! We've shared a couple of photos on Instagram from the restaurants we nominated without sharing where we were, but now it's time to announce where all that gorgeous food can be found.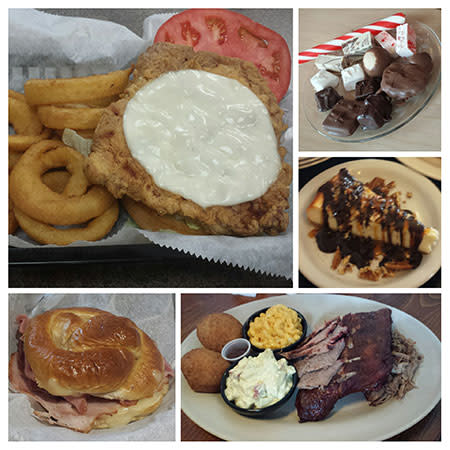 Day 1 (Clockwise from top left.)
That beautiful, tasty-looking tenderloin and onion rings can be found at the newly remodeled Come n' Git It, located in downtown Martinsville. We also sampled breakfast items and fun mini cheeseburgers while we were there – all of it delicious! Did you know they serve breakfast all day long?  
The Martinsville Candy Kitchen served up a beautiful plate of handmade candies that included several chocolates and their signature candy canes. Don't forget, they also have more than 35 flavors of ice cream and the best vanilla (or cherry) cokes around! We can see why this business has been around for nearly 100 years. 
JK's Cheesecake Café certainly did not disappoint with this beautiful (and delicious) turtle cheesecake, as well as a chicken salad sandwich and tasty soup. They also have a great salad bar, loaded with fresh, tasty options. Don't forget the hot or cold coffee and tea drinks - they have a different flavored iced tea every day!
Squealer's Award Winning Barbeque served up this beautiful sampler platter – complete with fried biscuits and apple butter. Plus, we got to try a specialty cheeseburger, bacon cheese fries and a tender breaded tenderloin.
Ralph and Ava's Café rounded out our first day of evaluations with their yummy signature pretzel melt (of course), a buffalo chicken wrap and a taste of amazing snickerdoodle cake from Sugar Mama's Bakery!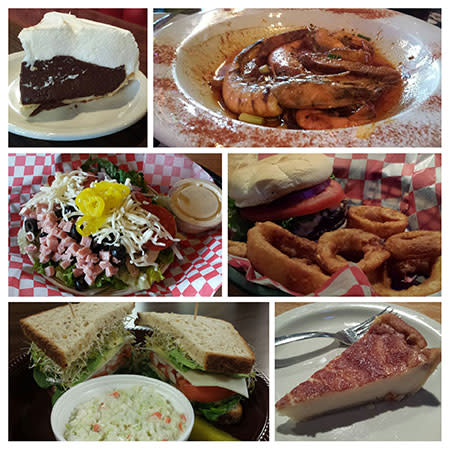 Day 2 (Clockwise from top left.)
We kicked off the day at Gray Brothers Cafeteria with their signature fried chicken dinner and a slice of decadent chocolate pie. There's a reason this place has been around for 75 years or so… they sure know what they're doing when it comes to comfort food!
Zydeco's Cajun always serves up amazingly authentic Cajun cuisine – pictured here is their BBQ Shrimp, a staple on the menu. It's also crawfish boil season right now, which is a real treat! Kids will enjoy their alligator on a stick, and don't miss the bread pudding.
That beautiful burger and onion rings is from the Main Street Grill in Monrovia. If you've not been, get it on your list! We also tasted the breaded mushrooms and… a slice of sugar cream pie! That's right, a little slice of heaven, otherwise known as Indiana's state pie, was delivered to our table. I don't like to play favorites, but this very well might have been the best sugar cream pie I've ever tasted!
This beautiful veggie sandwich can be found at Sgt. Pepper's Chicken in Martinsville. We were also treated to fried green tomatoes, their famous fried chicken, yummy potatoes and a tasty pork tenderloin. (Did you know they also have fried ice cream!?)
Last, but certainly not least, is this fresh antipasto salad from Tomato Pie Pizza Joint in Paragon. We also sampled the pizza (of course), a tasty Stromboli sandwich and those always-amazing breadsticks. They also have fresh-baked cookies for dessert!