Indulge in a six course Medieval Royal Banquet, meet the King and Queen and enjoy live interactive entertainment from the Merry MAC Players in "Murder Most Fowl." Choose from four performances - Thursday through Sunday, June 13-16, beginning at 6:30 pm. Just in time for Father's Day, this brand-new event for Morgan County promises to be both historically accurate and well... downright hilarious! Brought to you by a partnership between Holy Smoke Hog Roast Company, located in downtown Martinsville, and the area's community theatre company, the Merry MAC Players, the event will provide a look back to Medieval times through both the culinary and performing arts. 
Enjoy a summer evening under the royal tent on the lawn at The Main Connection, located just blocks from the Martinsville Courthouse Square on Main Street. Set in Medieval England, both the menu and the entertainment will transport you back in time. You'll enjoy an authentic five course Medieval Royal Banquet featuring a period appropriate 14th Century menu created by Chef Eli, along with your choice of water or iced tea. Additional drinks, including ale, beer, mead and, less historically accurate Coke products will be available at an additional cost. Children age 6 and up are welcome. It is suggested that you bring your own knives, as forks have yet to be invented!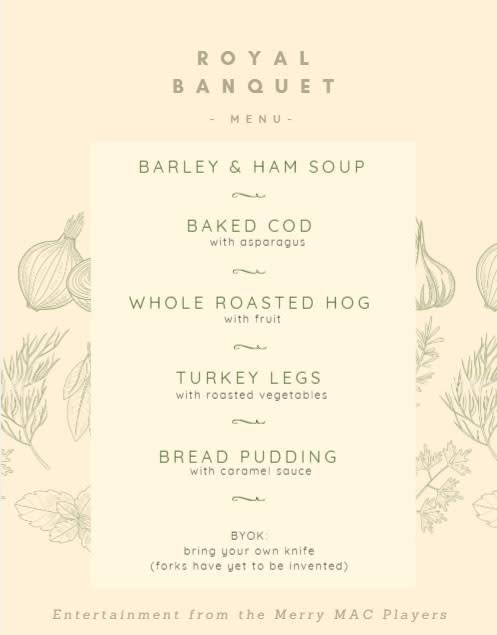 As part of this fun evening, attendees are invited to dress for the occasion in period appropriate attire, if desired. The King and Queen will be in attendance, along with a host of other characters, and you are encouraged to mix and mingle throughout the evening. Along with the lavish, period-inspired meal, you will be interactively entertained by these characters portrayed by the very talented Merry MAC Players. As part of the evening's entertainment, you will discover who is responsible for a "Murder Most Fowl," which will unfortunately take place at the event. In addition, you'll be introduced to the winged performers of nationally recognized wildlife educator, and the evening's Royal Falconer, Mark Booth. Mark and his birds of prey will be on hand to discuss and demonstrate the ancient and intricate art of falconry from the Medieval period.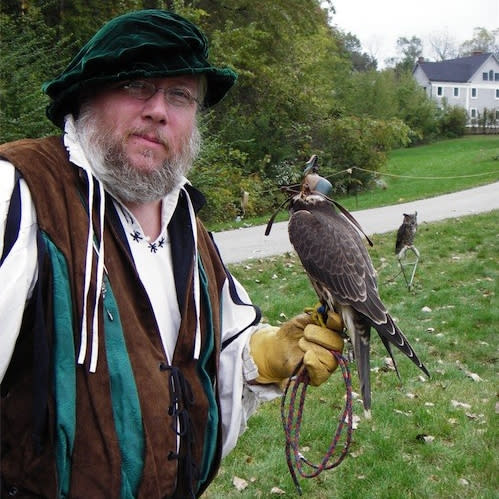 Tickets for this evening of Medieval fun are now available online at merrymacplayers.org. Get yours today, and be sure to invite Dad! 

UPDATE: A performance only option is now available! If you want in to the excitement, but aren't brave enough to enjoy a meal from the 14th Century, check out the performance only ticket option. You'll get all the excitement of the theatrical performance from Merry MAC Players and Take Flight! Wildlife Education, along with a drink (water, tea or lemonade) and bread for only $20 per person!