Once the leaves begin to fall, you know the craft and gift fairs will be coming up! Here's your convenient list of upcoming Craft Shows, Holiday Bazaars and Christmas Open House events to get your holiday shopping started right - with locally made items from regional artisans. Be sure to check our Calendar of Events for other holiday-themed events throughout the county, including live candy cane pours and opportunities to meet Santa, as we get closer to the holidays.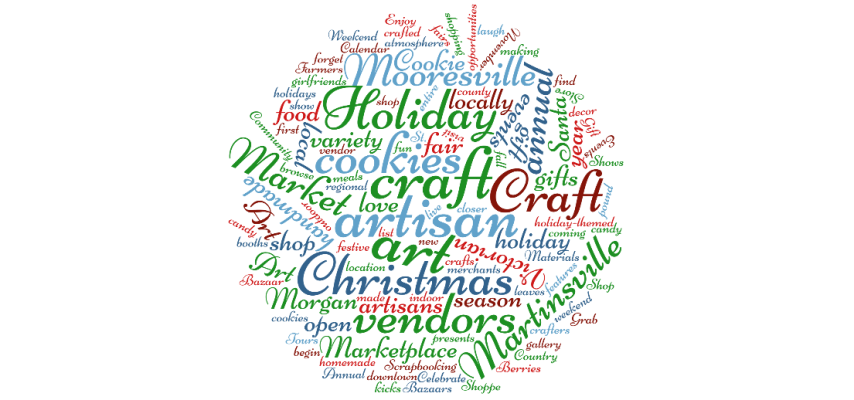 Nov. 5 - St. Martin of Tours Annual Holiday Bazaar & Cookie Shoppe, Martinsville
This fun annual event kicks off the November craft show season and features local vendors, crafters and handmade cookies by the pound! 
Nov. 5 - Christmas Open House, Berries & Ivy Country Store, Martinsville
Find out what's new this holiday season at Martinsville's premier shop for home decor items. Shop for gifts or for yourself!  
Nov. 11-13 - Women's Scrapbooking & Craft Weekend, Mooresville Arts Partnership
Enjoy making your own crafts and gifts at this annual event. Grab your girlfriends and come for the day, or stay the entire weekend. Materials and meals are provided. 
Nov. 12 - Footsteps Montessori Craft & Gift Fair, REMC Building, Martinsville
Held at the REMC Community Room, this annual craft and gift fair features a wide variety of local vendors and artisans.  
Nov. 12 - First Baptist Church of Martinsville Annual Craft Fair
Browse through booths featuring crafts, holiday decor and fresh-baked items from local vendors. Breakfast and lunch served on site.
Nov. 26 - Small Business Saturday Marketplace, Art Sanctuary, Martinsville
Celebrate Small Business Saturday at the Art Sanctuary with locally crafted items and vendors, all in one convenient location! Don't forget to visit other downtown Martinsville merchants while you're in the area. 
Dec. 3 - Victorian Christmas Celebration, Mooresville
Mooresville's annual Victorian Christmas Celebration features indoor and outdoor vendor and craft booths to browse through in a festive atmosphere. 
Dec. 9 - Christmas Open House, The Sterling Butterfly, Martinsville
Stop in at The Sterling Butterfly to enjoy their annual Christmas Open House and find a variety of unique, high-quality handmade gifts!
Dec. 10 - Morgan County Holiday Market, Presbyterian Church, Martinsville
Each year in conjunction with the Martinsville Cookie Stroll, the Morgan County Farmers Market presents Holiday Market, where you can find a variety of handmade items and meet Santa! 
Dec. 10 - Cookie Stroll Craft Fair, Art Sanctuary, Martinsville
In it's very first year, this craft fair will be held in the lower gallery of the Art Sanctuary during the annual Martinsville Cookie Stroll.