The Morgan County Farmers Market will look a little different this year amid a global pandemic. Here's what you can expect. Some of our favorite things about the local farmers market will remain unchanged - you'll still have the opportunity to learn about where your food comes from, meet the people who grow or produce your favorite foods and enjoy browsing through booths, but some things will change as well. Mingling with others from the local community will be limited as we continue to practice social distancing. Booths will be spaced farther apart than in previous years and visitors will be asked to keep their distance from one another. 
At the farmers market you'll find all the normal staples as they ripen - greens and asparagus in the early weeks, then strawberries. tomatoes, corn and zucchini at the height of summer, which give way to pumpkins, apples and mums at the close of the season. Part of attending the local farmers market is enjoying the natural rhythms of the changing seasons as different produce becomes available throughout the run of the market.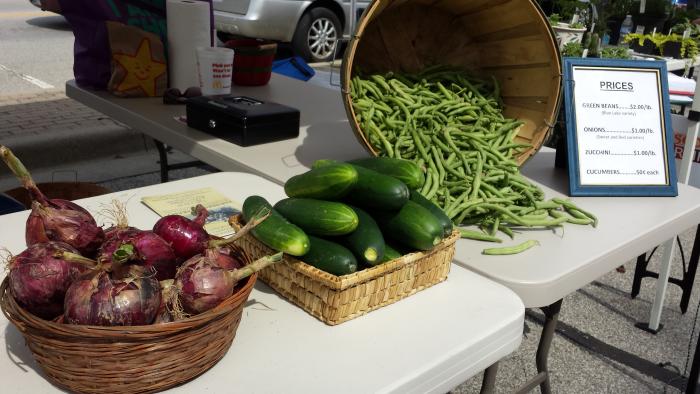 You can find the local Morgan County Farmers Market twice a week, beginning May 5 and running through the end of September. On Tuesdays, the market is open from 3 to 7 pm outside the Mooresville Friends Church, located at the intersection of Main Street and North Monroe Street (also Indiana State Road 267). On Saturdays, the Market can be found right on Main Street in Martinsville, on the grounds of The Main Connection at 460 S. Main Street. Vendors set up on the north side of the building from 9 am to 1 pm. 
Vendors at the Morgan County Farmers Market offer more than just fresh veggies! Locally raised pork is often available at the market, as well as eggs from happy local chickens, and sometimes ducks, too. Keep an eye on the growing season to predict the types of produce to expect at the market. The first few markets of the season are also a great place to get bedding plants if you'd like to try your hand at growing some of your own produce. Additional, non-food items may be limited this year as the market opens. Safety restrictions mean that only the essential items of food and personal care items will be available. Other safety restrictions include reserving the first hour of each market for consumers at higher risk, such as the elderly or those with compromised immune systems. Vendors will be spaced a minimum of 6 feet apart and both customers and vendors are encouraged to limit personal contact with others (no handshakes, hugs, etc.), consumers are asked not to pick up and handle merchandise, and vendors are encouraged to take electronic payments rather than cash whenever possible. Hand washing stations will be available onsite.
Be sure to keep an eye on the Morgan County Farmers Market Association page on Facebook or their website at mcfarmers.org for regular updates about available products and any changes that might occur as the season goes on, as well as occasional vendor profiles so you know more about the area farmers that make the market possible.  
BONUS TIP: 
Don't forget that many of the eateries in downtown Martinsville are still open for carryout orders. After visiting the Farmers Market, order up a big, tasty breakfast from Come N' Git It Diner, or the Waffle Whitch. If breakfast isn't your thing, enjoy a fantastic lunch from choice of 21 North Eatery & Cellar, or Los Reyes. Don't forget dessert - the Martinsville Candy Kitchen has everyone's favorite candy, plus ice cream, floats and the best vanilla cokes around! Most of these restaurants are currently offering pick up or curbside service. Call for details. Here's our list of all restaurants still open for carryout in Morgan County.