As we move into the fall season, it's time to celebrate harvest time on our family farms! Morgan County has several family farms that are open to visitation at various times of the year. This list is specific to the fall season, but you can see a complete list of area farms to visit on our Farms and Flowers page. Read on below for our five favorite farms to visit in the fall! 
Some of these locations are seasonal in nature and some are open all year long, but have specific fall offerings or events that make visiting during the season of changing leaves and pumpkin spice a must. We invite you to come experience a bit of farm life, or just pick up some fresh locally grown produce, meat, preserves and more at these Morgan County farms. 

Anderson Orchard 
Family owned and operated since 1969, Anderson Orchard in Mooresville is open seasonally from July into November with 150 acres of apples, red raspberries, nuts, pumpkins, peaches, pears and plums grown on site, plus tons of fresh produce grown in Indiana and neighboring states, yummy cider and more. A variety of items can be purchased in the store. The on site concessions provides tasty treats including caramel apples, cider shushes, fried biscuits with apple butter, fried apple pies, ice cream and more.
Anderson Orchard offers up a full fall experience with a fun play area, hayrides, u-pick apples and raspberries, photo opportunities, a pumpkin patch and more. Hours are 8 am to 6 pm, seven days a week in August, and 8 am to 8 pm (or dark) seven days a week in September and October. Caramel apples and cider slushes are available every day; full concessions menu available on weekends in September and October.
 ​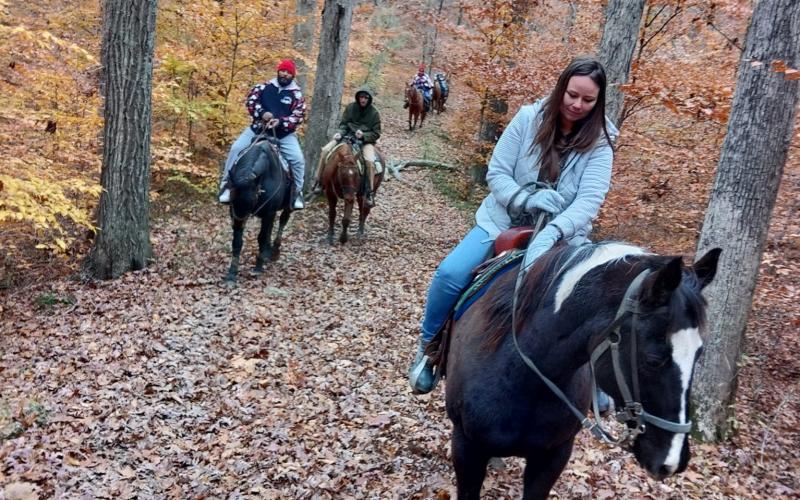 Grandpa Jeff's Trail Rides
Grandpa Jeff's Trail Rides is located just outside of Morgantown and offers up unparalleled trail riding experiences through beautiful fields and forests. Open year around, you can enjoy a ride just about any time of year unless the weather acts up. A ride on horseback is an awesome experience for all ages any time of year, but if you ask us, fall is always the absolute best time to see the forest from atop a friendly horse. The changing leaves add another layer to the experience you just don't get any other time of year. Remember, to dress for the weather - fall mornings can be chilly but afternoons often warm up nicely.
Call ahead to schedule your visit. Whether you're riding solo or herding a large group of family or friends, Grandpa Jeff take matching up each member of your group with the perfect equine partner for a fun and successful ride. Trails take you through the woods, up and down hills and across creeks for a scenic, relaxing experience. Choose from a 45 minute ride, an hour and 45 minute ride, or even a half-day or all day ride, depending on your skill and comfort level. Contact them at 812-272-0702 to schedule your horseback adventure on the day of your choice this fall, but don't wait too long... weekends in particular fill up quickly!

Hunter's Honey Farm
Making life sweeter in Morgan County for more than a hundred years, Hunter's Honey Farm is another local, family-owned and operated farm you can visit pretty much any time throughout the year for a fun day, but there's just something about visiting in the fall. The Hunter family not only manages probably millions of bees to help pollinate farm fields throughout the region and beyond, they also operate an on-site gift shop where you can find a wide variety of honey-based products as well as beeswax, bee pollen and propolis.
Several variations of their standard tour are available for groups of all sizes. You can bottle your own honey bear bottle, make a beeswax candle, talk with a beekeeper, see them extract honey (seasonal) or take in a live hive demonstration. There's even a guided forestry tour of the farm's 65-acre hardwood forest, or a farm tour via hay wagon! Tour prices vary depending on content; call ahead to schedule at 765-537-9430. 
Later in the fall, as we head toward the holiday season, Hunter's Honey Farm also sells Christmas trees, beginning the Saturday after Thanksgiving!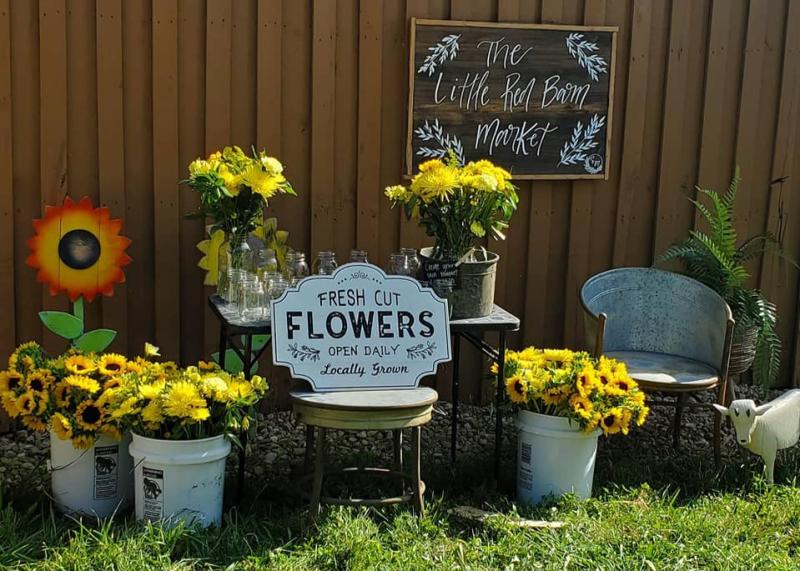 Walker's Homestead Little Red Barn Market
Walker's Homestead is family owned and operated and committed to a modern version of homesteading. The farm is home to Walker's Homestead Soap Co., which produces cold processed goats milk soaps, the on site farm store, a motley crew of resident animals and more. Occasionally, DIY classes are offered for those who are interested in learning more about soapmaking, canning or other homesteading skills. The farm store on site offers a fun mix of products produced on the homestead as well as items from other local producers. The store has regular open hours on Thursday through Sunday, and offers a weekly bundle featuring a pre-chosen set of seasonal items
In addition to the farm store and soapmaking, Walker's Homestead is also an event venue! Home to seasonal vendor based events that feature shopping local, enjoying live music, local food and more, you'll want to watch for upcoming dates. This year's Fall on the Farm Little Red Barn Market event will feature 70+ vendors, a pumpkin patch and u-pick flowers!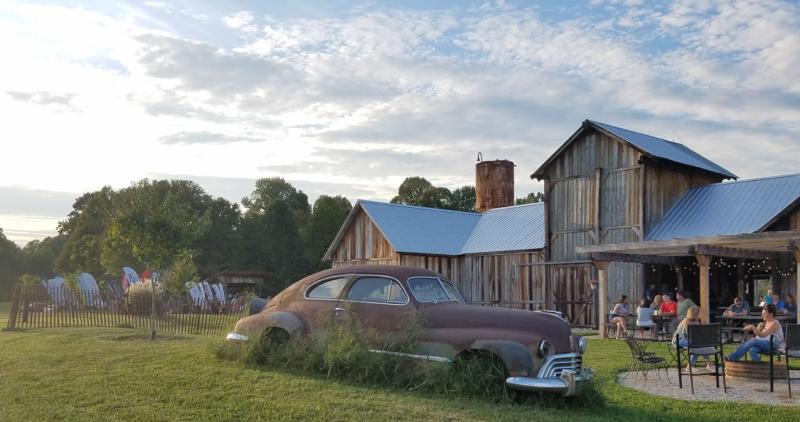 Cedar Creek Winery, Brew Co & Distillery
The Cedar Creek family of businesses continues to build a stellar reputation for quality locally-crafted beverages, live music and now, great food! If you need a lunch stop in the midst of your farm visits this fall, look no further than Cedar Creek's new eatery. Cedar Creek is still the only single location in Indiana that's home to a winery, brewery and distillery - all family-owned and operated! Choose your beverage of choice, then head for the eatery for a hearty lunch. The menu truly has something for everyone, from fancy charcuterie (served with a pretzel!) to burgers to pizza. All ages are welcome.
Cedar Creek is home to the annual Drink at the Creek Concert Series that runs from May to early October. When there's not a big concert on the schedule, the facility often hosts casual, free musical performances from local and regional musicians on weekends. Performances often take place outdoors on the big stage when weather permits, then move indoors at the winery/brewery building. Bring a blanket or lawn chairs. Also watch for additional upcoming special events on our calendar!