FOR IMMEDIATE RELEASE
Media Contacts: 
Dan Baldwin, Artist
Joanne Stuttgen, Rediscover Martinsville
Artwork Selected for International Illustrators Exhibit
Original artwork, "I'm Glad I was a Teacher", created by Martinsville artist Dan Baldwin and his son, Sam, has been selected for the Society of Illustrators Illustrators 60 exhibition January 7-27 in New York City. An opening ceremony will be held January 5.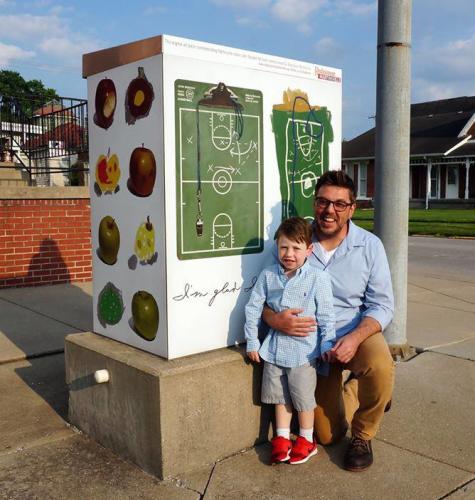 Founded in 1901, the Society of Illustrators is the oldest nonprofit organization dedicated to the art of illustration in America. Notable Society members have been N.C. Wyeth, Rube Goldberg, and Norman Rockwell, among many others.
The Society's annual exhibition is the premier showcase for illustrators, featuring over 400 pieces of the most outstanding works created throughout each year. Open to artists worldwide, thousands of entries are considered by a jury of professionals, which include renowned illustrators, art directors and designers.
Dan Baldwin is Assistant Professor of Computer Graphics Technology at Purdue School of Engineering and technology, Indianapolis. Sam Baldwin is five years old and a student at Tabernacle Christian School. Commissioned by Rediscover Martinsville for its Wisdom of Wooden Public Art Initiative (WOW), Phase 1, the artwork covers the traffic signal box at the northwest corner of Main and Jackson Street. Funding and support for the initiative was provided by Visit Morgan County, Indiana Arts Commission, Brown county Community Foundation, and the National Endowment for the Arts.
Baldwin submitted the piece at the last minute. Although he'd often been encouraged to enter the competition, he "never had the guts to apply. This is a big, big, big one, the number one premier international event for illustrators. It's pretty nuts. I tell you what, I am beyond amazed" to have been selected.
In his entry application, Baldwin wrote:
"The client, Rediscover Martinsville, desired to commemorate Martinsville native John Wooden through a series of public art installations. His quote, 'I am glad I was a teacher' resonated with me as an illustrator, and even more so as a father, and guided the concept for this four-panel illustration series.
"In attempts to conceptualize a series of paintings that reinforced Wooden's quote, his project provided a collaborative opportunity to work with my five-year-old son Sam. It allowed me to continue to develop his love of the arts and teach him about drawing and painting. Throughout this process, I shared the story of John Wooden, his history, and how his philosophies of life apply to our everyday.
"Each panel relates directly to Wooden's basketball and teaching career. Research on this project also revealed a 1968 personal letter from Wooden. I utilized this document to recreate his handwriting. I think his words in his own hand add history and intimacy to the subject.
"Visit Morgan County, the Indiana Arts Commission, the Brown County Community Foundation, and the National Endowment for the Arts funded this illustration series.'
For more information about the Society of illustrators and the Illustrators 60 competition, see https://www.societyillustrators.org/programs/annual-exhibition.
Rediscover Martinsville's is an all-volunteer, non-profit organization whose mission is to enhance the perception, quality of life, and long-term economic growth of the entire Martinsville community through a concentrated and sustained effort to revitalize the city's downtown district. For more information or to get involved, see www.rediscovermartionsville.org, follow us on Facebook, call 765-343-6303 or email rediscovermartinsville@gmail.com