Did you know that May is National BBQ Month? Who doesn't love BBQ, right? Historically speaking, human's have cooked meat over a fire seemingly forever, and some say that the first Europeans who arrived in the Americas found that many of the native tribes roasted meat over the fire using unique wooden grills. This gave the meat a delicious smoky flavor as it cooked. The evolution of BBQ and smoked meats has continued throughout the ages and we can't think of a better time to celebrate that tradition than the month of May. The timing is perfect to welcome the beginning of summertime activities and those fantastic flavors, so we're thinking a celebration of sorts is in order.
First, we'll tell you about where to find amazing, (even award-winning!) BBQ in Morgan County, then we'll fill you in on how to enter to win one of two fun BBQ-related prizes. Ready? Here we go... 
Squealers Barbeque Grill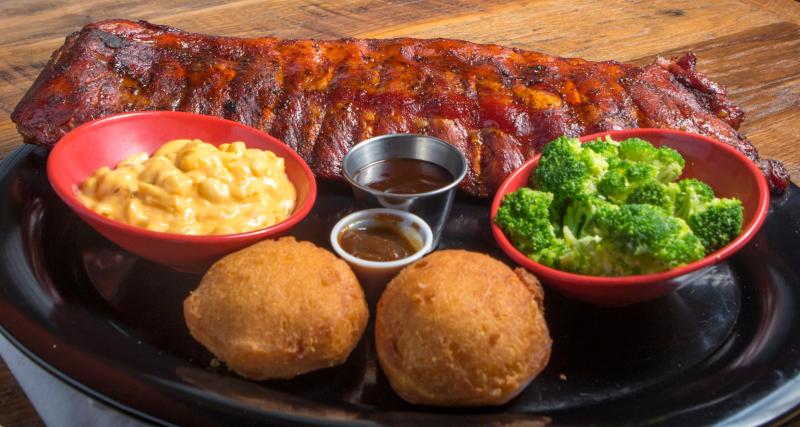 First up is Squealers Barbeque Grill in Mooresville. A longtime Indiana favorite for authentic smoked barbeque and signature sauces, the first Squealers dine-in restaurant opened in Mooresville in May of 2001, they truly did it up right. The Mooresville location boasts a full bar, comfortable dining area and even a banquet facility for groups up to 125! (You can also find Squealers at the Indianapolis location on West 86th Street, opened in 2004, but we always recommend checking out the original Mooresville location, which is featured on the statewide Indiana Foodways Alliance culinary trails.) 
No strangers to the barbeque competition circuit, Squealers Barbeque Grill has taken home top honors at barbeque competitions nationwide for more than 20 years, often claiming the title of Grand Champion or People's Choice in assorted national, world and Rib Fest events throughout the south, east and Midwest – while traveling in style with their branded, can't-miss Squealers RV. In recent years, Squealers Barbeque Grill has secured an award in the Top 10 at nearly every event they entered, and earned a spot at the prestigious 2015 American Royal Invitational competing with upwards of 600 teams nationwide in Kansas City. Additionally, Squealers Barbeque Grill has competed twice as the only team from Indiana at the invitation-only Jack Daniel's event held in Lynchburg, Tenn.
Proud to support the local community through fundraising programs that help raise money while providing an opportunity to share a meal, Squealers Barbeque Grill's Dine to Donate initiative has helped benefit the Juvenile Diabetes Research Foundation (helping to raise more than $5,000!), and multiple programs at Pike High School as well as dozens of other high schools, elementary schools and churches in Monrovia, Martinsville, Mooresville, Pike and greater Marion and Morgan counties. Squealers Barbeque Grill is certified by Indiana Grown, a statewide branding initiative encouraging Hoosiers to buy, sell, and share food and products made in Indiana, and is a member of Indiana Originals, on a mission to simplify the process of buying, using and supporting local in Indiana. 85% of Squealers Barbeque Grill pork is raised in Indiana. Additionally, Squealers Barbeque Grill has catered events large and small for dozens of corporate entities, nonprofit organizations and beyond in a variety of professional industry settings.
View the Squealers menu, catering options and a full list of their more than 100 awards at squealersbarbeque.com.
Find the original Mooresville location at 390 East High Street, Mooresville, IN 46158.
Find them on social media: Facebook | Instagram | Twitter
Gather Around BBQ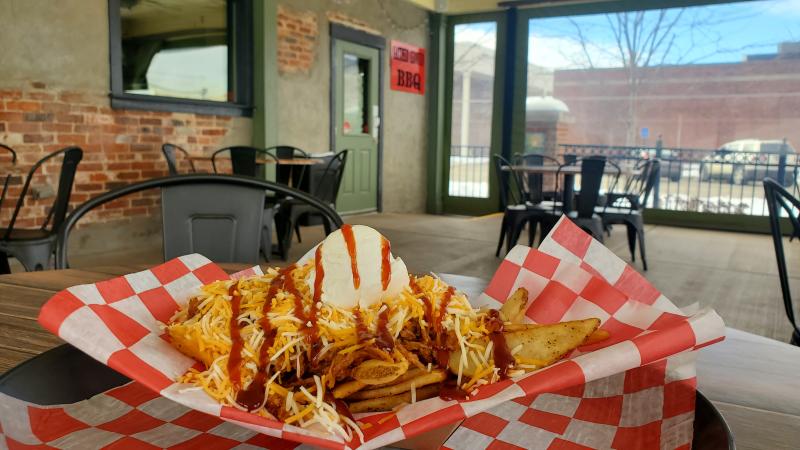 If you're looking for a great barbeque option in the southern part of Morgan County, look no further than Gather Around BBQ in downtown Martinsville. A family-owned and operated business that started out in 2011 with a mobile food truck, Gather Around BBQ has quickly become a local favorite! Owners Kevin and Melissa Greene have created a winning combination of tasty food and impeccable service in a warm and friendly atmosphere. Kevin is a KCBS award-winning pit master (and the Chief of the Martinsville Fire Department, so you know he can handle the heat). They've been serving up quality BBQ from their mobile truck, which still makes appearances around the region and now, their "worried over, hard-won, only-the-family-knows-the-recipe" BBQ is available at a brick-and-mortar restaurant in downtown Martinsville.
You'll find them right on Main Street with a great view of the courthouse square in Martinsville. The restaurant location boasts a comfortable dining room, a sizeable covered, heated (and pet-friendly) patio and extensive menu. Opened in July of 2020, the restaurant has fast become a downtown staple and will soon make its own appearance on the Indiana Foodways Alliance statewide culinary trails! Keep your eyes open for that mobile food truck, too - they're frequently spotted at area festivals, and other spots around the area. Whether you visit the food truck or the dine-in location, you'll want to sample that candied bacon for sure, and don't miss signature dishes like the Gabby Mac and the BBQ Nachos. 
Gather Around also supports local causes through their fundraising program that helps raise funds for a wide variety of area teams, clubs, school and church groups. Catering options are available as well. 
Find more information on Gather Around BBQ, including their menu, and online ordering options at gatheraroundbbq.com.
Find the restaurant location at 43 South Main Street, Martinsville, IN 46151.
Find them on social media: Facebook | Instagram | Twitter
Register to Win
Okay, so here's the part where we tell you how to win one of two fun prizes! Each of these BBQ masters will provide a prize - one will go to each of two lucky winners. Don't worry - we're making this easy on you - simply fill out the form below and you'll automatically be entered to win. One entry per person. Entries will be accepted through May 31, then our two lucky winners will be chosen at random. Contact information will be provided to Squealers and Gather Around who will reach out to winners to arrange for prize pickup or delivery. Good luck, BBQ fans!